You are currently browsing the tag archive for the 'unique' tag.
Sometimes the best discoveries don't require meticulous planning, a long journey, or special shoes.  Sometimes you just have to see what's in front of you.
This is some of what Belgian photographer Harry Gruyaert has been seeing and recording for the rest of us over the last 40 years.
He is credited with helping to prove the point that European photographs could be in colour and still be taken seriously.  Not that there is anything wrong with black and white.
Mr Gruyaert claims that he doesn't think much about all this, and he avoids talking about it if at all possible.
The British Journal of Photography did manage to get a few words out of him, which can be read here
All images © 2015 Harry Gruyaert / Magnum Photos
As we noted a while back: "Music, good music, SOUNDS good, of course.  But we've noticed that the best music also LOOKS good."  This time, we've turned our eyes to music on the page, music made  with pen and ink (or whatever) for other musicians to read and play.        Above image from the cover of Stravinsky the Music-Maker seen here

A note from Johannes Brahms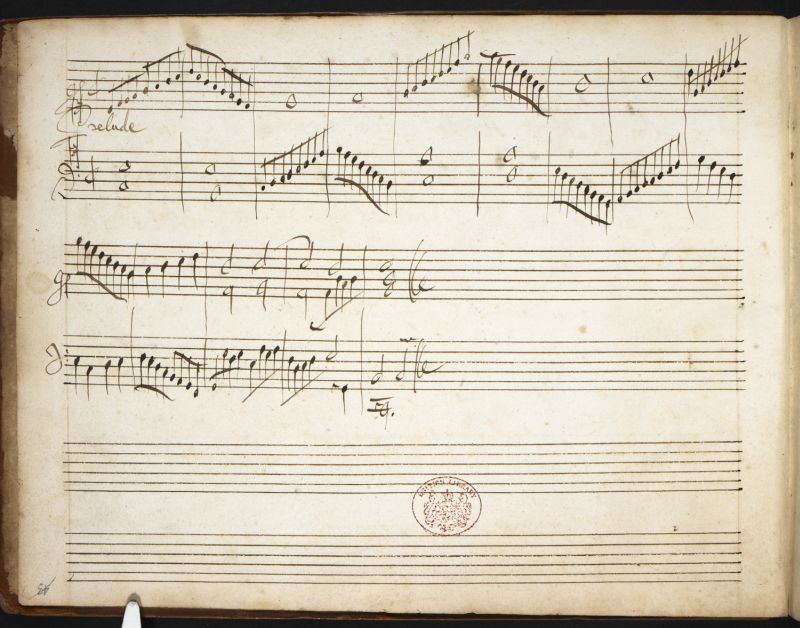 Even if you can't read music, you can tell this is music and you know it sounds pretty good.  Henry Purcell at the British Library

This too.  It is Robert Schumann  @ Yale
Music on the page goes as far back as words on the page.  In either case, it's all about letting other people know what you hear in your head (and your heart), whether it is a thought about Spring or the sound of Springtime.

Lots more here.

This old beauty found at Oxford Early Music Festival.
Coming back closer to our time, you can see the music loosen up, take chances, leap, fly.
This lovely thing lives at Yale.
Autograph musical manuscript signed (Thelonious M), Monk's Mood, 1 Page, New York, c.1956-7

Apart from the divine Mr Monk, 20th century music makers have shied away from showing us their direct hand-i-work.  Keyboards and computers come between the fingers and the page.  But with the digital tools available, new ways of showing our eyes the look of music have sprung up.
This video give us Stravinsky's Rite of Spring as an animated score.  Of course Nijinsky basically did that a hundred years ago, with bodies and fabric and genius.
So, we give the last word to the visual artist who deeply understood the look of music.
Music: stop Look listen.
Puppets have been with us for a very long time.  Amusing us, sometimes scaring us or making us mad–and by "us", we mean people of just about any age in any country. Small figures made of simple materials become actors in a play.  This is theatre the way we all like it. We laugh, we cry.   Applause applause.
The above 200-year-old puppet troupe, supporting cast to the beloved character Guignol, is from Lyon, France, found here.
But happily, puppets are as much a part of the present as they are a reminder of the past. Today, right now, puppet making and puppet theatre are as widely appealing and inventive as ever.
This is one (of dozens) of small figures imagined and made by Canadian artist Geoffrey Farmer for a show called The Surgeon and the Photographer. Each is made of cloth and paper cut out of magazines and books.  Are they "puppets"?  They are to us, and the room full of them was, by a long shot, the best thing we saw in an art gallery in 2015.
Above, Mr Farmer's puppets on parade at the Barbicon in London in 2013. Happily, all these little people have been gathered in a book.
Whatever their actual age, puppets seem to belong to a time all their own.  This lad, who is Italian and just waiting for the show to go on, is about 300 years ago.
This past August, many of the fine performances at the 2015 Edinburgh Fringe Festival featured puppets and puppetry of the highest and most hilarious order, the most absurd, unsettling, laugh-in-spite-of- yourself kind of stuff you'll find in any theatre anywhere…
Like Bruce, a sponge puppet, with quite a story to tell. Created by Australian company The Last Great Hunt
And Foxy, one of the stars of Sing for your Life, a "Hideously hilarious taxidermy puppet cabaret"written by taxidermy performance artist (!) Charlie Tuesday Gates. Don't look toooo close.
Puppet festivals thrive today in many cities–like Istanbul, below
Montreal   Festival Casteliers   Afternoon of a Foehn. 
So we encourage you to get off your hands and head out to a puppet show near you or way over there in Istanbul.  Near or far, the delight remains supreme.  We love these little creatures, don't we?
G. Farmer.  Mlle Puppette.  Enchantee. Merci.
These days, not many of us stop and take note of what we are walking on or where we stand.  But over the years, lots of talented people have been putting lot of thought and creativity into the stuff that goes under our feet.
Treat your feet and feast your eyes: Viva Terrazzo…..
Above is just a peek at the bedazzling variety of patterns produced by the terrazzo process–part construction part sculpture pure elegance that lasts a lifetime
Found here.
If your two feet happen to prefer wood to stone, but you still want the visual variety of Terrazzo, you need to budget for Parquet wood floors.
Above selection, tip of the parquet iceberg, found here
The idea certainly appealed to the folks at the St Petersburg Winter Palace–the Hermitage, nice photo from here. 
But what do you do in 2015 to satisfy the floor fetish in your own contemporary home?
Well here's one idea:
Grey wood is all the rage.  It seems we now favour a neutral background for our lives and ourselves, a bare stage on which to strut our stuff.
But what does that say about us and how we value ourselves relative to the things around us?  Have we lost a step or two in always clambering to be the centre of attention? If Princes and High Priests were willing to share their habitat with the likes of this…
Duomo, Siena

or this….
Santa Maria della Salute, Venice
Why can't we just suck it up and give ourselves a floor worth dancing on?
 Sicis-Neoglass-Wheels-Mosaic-Glaze-Crystal-Mosaic-Red-Crycle-Floor-Wall
But, hang on, you don't have to run out and replace your floor;  what a waste. The truth is you can dramatically raise the creative temperature of any room by covering parts of it with a piece of hand-woven cloth.  Oh yes you can…
Zoe Luyendijk gets it and she's got it, woven by hand in silk and wool to slip nicely between your foot and the floor while your eyeballs explode.  Fall in love here:
Surely we are ready to revive the art of the floor.  Why should fridges, counter tops, and faucets get all the attention.  Look down, imagine the possibilities.  Imagine your personal terrain.
Floor of San Giorgio Maggiore,  Venice
Don't stand for anything less.
And what about that ceiling?