You are currently browsing the tag archive for the 'performance' tag.
As we noted a while back: "Music, good music, SOUNDS good, of course.  But we've noticed that the best music also LOOKS good."  This time, we've turned our eyes to music on the page, music made  with pen and ink (or whatever) for other musicians to read and play.        Above image from the cover of Stravinsky the Music-Maker seen here

A note from Johannes Brahms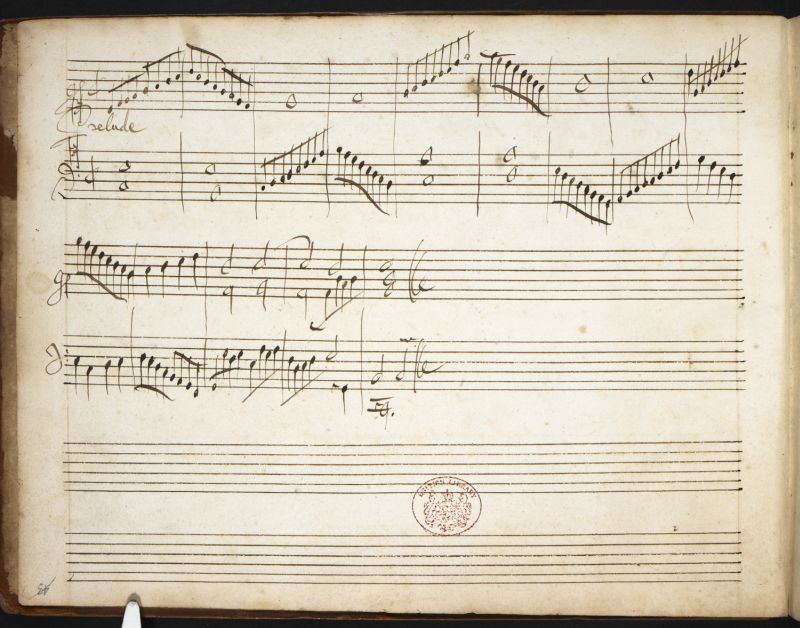 Even if you can't read music, you can tell this is music and you know it sounds pretty good.  Henry Purcell at the British Library

This too.  It is Robert Schumann  @ Yale
Music on the page goes as far back as words on the page.  In either case, it's all about letting other people know what you hear in your head (and your heart), whether it is a thought about Spring or the sound of Springtime.

Lots more here.

This old beauty found at Oxford Early Music Festival.
Coming back closer to our time, you can see the music loosen up, take chances, leap, fly.
This lovely thing lives at Yale.
Autograph musical manuscript signed (Thelonious M), Monk's Mood, 1 Page, New York, c.1956-7

Apart from the divine Mr Monk, 20th century music makers have shied away from showing us their direct hand-i-work.  Keyboards and computers come between the fingers and the page.  But with the digital tools available, new ways of showing our eyes the look of music have sprung up.
This video give us Stravinsky's Rite of Spring as an animated score.  Of course Nijinsky basically did that a hundred years ago, with bodies and fabric and genius.
So, we give the last word to the visual artist who deeply understood the look of music.
Music: stop Look listen.
Puppets have been with us for a very long time.  Amusing us, sometimes scaring us or making us mad–and by "us", we mean people of just about any age in any country. Small figures made of simple materials become actors in a play.  This is theatre the way we all like it. We laugh, we cry.   Applause applause.
The above 200-year-old puppet troupe, supporting cast to the beloved character Guignol, is from Lyon, France, found here.
But happily, puppets are as much a part of the present as they are a reminder of the past. Today, right now, puppet making and puppet theatre are as widely appealing and inventive as ever.
This is one (of dozens) of small figures imagined and made by Canadian artist Geoffrey Farmer for a show called The Surgeon and the Photographer. Each is made of cloth and paper cut out of magazines and books.  Are they "puppets"?  They are to us, and the room full of them was, by a long shot, the best thing we saw in an art gallery in 2015.
Above, Mr Farmer's puppets on parade at the Barbicon in London in 2013. Happily, all these little people have been gathered in a book.
Whatever their actual age, puppets seem to belong to a time all their own.  This lad, who is Italian and just waiting for the show to go on, is about 300 years ago.
This past August, many of the fine performances at the 2015 Edinburgh Fringe Festival featured puppets and puppetry of the highest and most hilarious order, the most absurd, unsettling, laugh-in-spite-of- yourself kind of stuff you'll find in any theatre anywhere…
Like Bruce, a sponge puppet, with quite a story to tell. Created by Australian company The Last Great Hunt
And Foxy, one of the stars of Sing for your Life, a "Hideously hilarious taxidermy puppet cabaret"written by taxidermy performance artist (!) Charlie Tuesday Gates. Don't look toooo close.
Puppet festivals thrive today in many cities–like Istanbul, below
Montreal   Festival Casteliers   Afternoon of a Foehn. 
So we encourage you to get off your hands and head out to a puppet show near you or way over there in Istanbul.  Near or far, the delight remains supreme.  We love these little creatures, don't we?
G. Farmer.  Mlle Puppette.  Enchantee. Merci.
Music, good music SOUNDS good, of course.  But we've noticed that the best music also LOOKS good.
That's Edythe Turnham and her Band up there, lookin' good.     photo Dorothy Hilbert Collection seen here
Small music groups, particularly, seem to have great visual appeal.  This is something like a family portrait–the resemblance is there–but where everyone has their own special piece of equipment and job to do. Found here.
When we go to see live music, we go to watch as much as to listen.  What we experience at the time, and what we take away, has a lot to do with what we looked at, what we saw.
Artists of every era have used musicians as subjects.  It's just natural.
Fernand Leger, two performances, same band, new look. See here.
Jan Miense Molenaer painted this portrait of a family musical event in Haarlem, Holland, in the 17th century.
Lots of paintings of musicians at work here
This scene of how to walk like an Egyptian while playing a tune is from the Metropolitan Museum collection, found here 
In our time, some of the most eye-appealing performances, we think, are given by the string quartet.
Bretano Quartet.
Borodin Quartet.
Performers at the Kairos chamber music festival, go here.
But for our money, nothing quite beats the genius solo performer deeply in tune with the music and the moment
Miss  Holiday, the song, the look, none before or since quite like that.
Mr Hendrix was an eye magnet as well as an incomparable musician. Fine photograph by Tom Gundelfinger O'Neal, lots more here

Glenn Gould,  Joni Michell.  Music like no one else.  Looking like no one else.
Listen up and look on.
Posters showing people dancing were among the first ever produced. Since then, many great dancers, along with many simply good ones, have appeared on posters. Two great ones from the 1991 Merce Cunningham Dance Company flying high above. Found here.
The 1920s and 30s produced a lot of amazing dancers, and a lot of great posters like the above four all found at the equally amazing International Poster Gallery, here.
This for the Baseler Ballett is pure poster art. By Herbert Leupin.
A little tribute to the hokey pokey by Picasso in 1961
Two for the Montreux Jazz Festival featuring people dancing by themselves, as people do at festivals. Jazz and otherwise. From International Posters, again.
Twyla Tharp above left is a modern master. Giselle was first performed in 1840 and is still going strong.
The two above posters are for an annual dance concert at Randolph Macon Women's College. Nice. Seen here.
And the above is calendar of posters for the Martha Graham Dance Company. Go here.
If you want to pick up a nice dance poster, you can find them at auction. The above bunch sold at a Swann Galleries at auction in April 2010, seen here.
If you'd like to get into the act and do a bit of dancing yourself, there are lots of places to shake a leg and learn new steps. And you can also enter competitions in all sorts of places-including the Massachusetts Institute of Technology (!).
First you might want to get your feet and knees in tip top shape at a dance camp. extreme or otherwise. And one day….
People at outdoor music festivals are usually a pretty happy bunch. But no one seems to get as happy and yes mellow as people at FOLK music festivals. Look at the two above seen here and the hoola hooper below seen here, all at the Port Fairy Folk Festival in Australia.
Folk festivals seem to occur just about everywhere that folk can be found. In North America, there are hundreds every year and each one seems to develop a personality of its own over time, though always remaining within the framework of being a laid back/come as you are/easy does it/beads and musk/natural food and fabric/rainbow colour/smile the whole time/love fest.
These people above are at the bliss fest kc in Kansas City.  If that weren't the actual name of the festival, people would probably call it that anyway.
This is the folk fest in Canmore Alberta. Stilt bliss. Get high on 2 by 4's. Photo from here
England has lots of folk festivals too. This is a shot of a recent gathering of the Cambridge Folk Festival, seen at the bbc.
Still at the Cambridge Festival, this is one of the performers last year, Eliza Carthy. At folk festivals, it seems, the people on stage get blissed as much as anyone in the audience. Seen again at the BBC.
Still in England, these folks above are at the Bromyard Folk Festival in Shropshire. No, they don't actually look blissed, but they are, they are. Especially the guy on the right inside the brown dinosaur suit. See here
This lady above is attending the Fairy Folk Festival in Sonoma California. She's as mellow as a kitty cat who's just finished eating an entire sockeye salmon. More here
Getting extremely happy, inside and out, at folk festivals did not start with the 1960's as you may have thought. This banjo player is performing at the Folkways Festival in Arkansas in 1941.  Found here.
There is a site called we love festivals with a day by day calendar of festivals, mostly folk, if you want to check it out .  Site here

Lets head back to Australia, this time to the amazing Woodford Folk fest, image here
Another day at the Woodford, which is held in late December, early January to see in the new year in high summer in Australia.  High summer got muddy this time, image here.
Woodford again above , here's their website
Wherever you see the words folk and festival , in any country, you will find people having the time of their lives.  It may only last a few days, but it shows us what we could be.   Maybe we need folk musicians on every street corner in every town and city all year long, to get us to stop awhile and bliss out. Image above from  here.