You are currently browsing the tag archive for the 'art' tag.

Pieter Bruegel, Flemish, born almost 500 years ago, was a miracle of a painter who gave us images we can still understand and delight in without a thick book or an expert.

Most of his pictures have their origin in the Christian Bible, but if you never saw a Bible in your life you would see and feel the humanity of what is staring you in the eye.
And you would see the children, somewhere in the frame.
You need to look, sometimes, for the children.  But they are almost always there, busy, preoccupied, stocky/stubby, lovely.

This is a detail of the Census of Bethlehem
Wherever you find them, these, Bruegel's children are identifiable as today's children, even if so much around them is bizarre.
Above, The Hunters in the Snow also known as The Return of the Hunters, is a 1565 oil-on-wood painting.
It is a quiet cold wonder in the palace of great art–thanks in part to those small boys and girls.
Sometimes the best discoveries don't require meticulous planning, a long journey, or special shoes.  Sometimes you just have to see what's in front of you.
This is some of what Belgian photographer Harry Gruyaert has been seeing and recording for the rest of us over the last 40 years.
He is credited with helping to prove the point that European photographs could be in colour and still be taken seriously.  Not that there is anything wrong with black and white.
Mr Gruyaert claims that he doesn't think much about all this, and he avoids talking about it if at all possible.
The British Journal of Photography did manage to get a few words out of him, which can be read here
All images © 2015 Harry Gruyaert / Magnum Photos

Twenty years ago or so, we came across a neat little book that told the story of a graphic icon: the funny little man, as the author (Virginia Smith) called him.  On the cover was a truly dapper Parisian gent created by AA Cassandre for Dubonnet, the aperitif made with fortified wine, herbs, and quinine.

As we recall it, the book (check it out here) tells the tale of how companies, mainly companies selling alcoholic beverages, mainly in Europe, mainly in the 1920's and '30's, often gave the job of promoting their product to a little guy.
You can find some lovely drawings by AAC here presenting the little guy doing all kinds of stuff.
It seems that Chaplin's Little Tramp had pretty much started the whole thing rolling.
The book has disappeared from our local bibliotheque (though still available, it seems, from the warrior woman), so we went looking on our own to find some colourful little guys hard at work

Ads for the Italian herbal aperitif Campari have used a weird little jester/devil of a man in a body stocking wrapped in an orange peel.   Nothing about Campari is ordinary.

The artist is Leonetto Cappiello, nice site in French here.
Cointreau has favoured Pierrot as their pint-sized sales guy graphically

and ceramically

If you, man or woman, drank aperitifs in European bars in the 1920's, chances are you lit up a cigar at some point. This little German guy was the guy to call.

But if you wanted music with your beverage, at home, you'd ring up Little Mr Disquehead  shown in this Dutch design for record players, disques, and radios.

Yes, you can say this is not a little man at all, but I don't think we should exclude the hard-working fella just because he is red and has a trunk.
For now, we'll say goodbye to the funny little guy by way of a little portrait of Mr Chaplin himself, apparently by himself, sketched on a cocktail napkin.  Salute.  Santé
As we noted a while back: "Music, good music, SOUNDS good, of course.  But we've noticed that the best music also LOOKS good."  This time, we've turned our eyes to music on the page, music made  with pen and ink (or whatever) for other musicians to read and play.        Above image from the cover of Stravinsky the Music-Maker seen here

A note from Johannes Brahms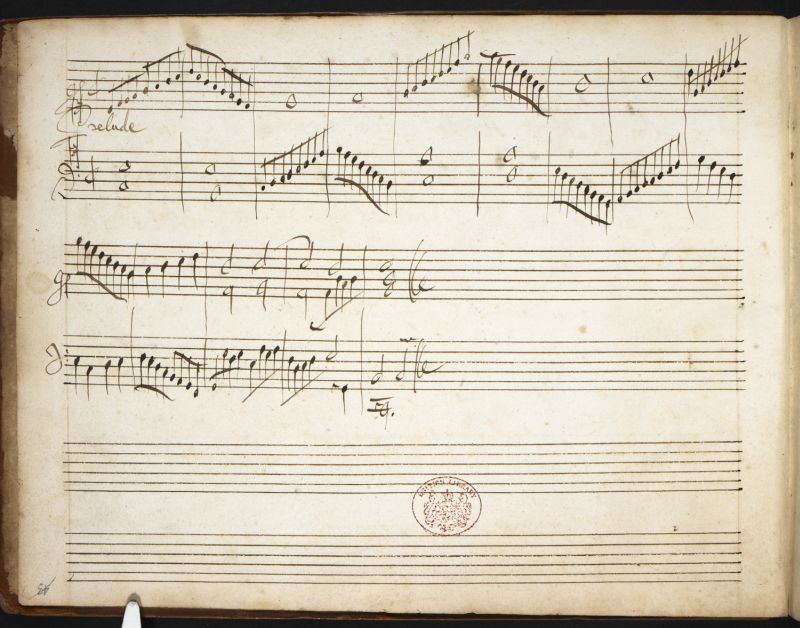 Even if you can't read music, you can tell this is music and you know it sounds pretty good.  Henry Purcell at the British Library

This too.  It is Robert Schumann  @ Yale
Music on the page goes as far back as words on the page.  In either case, it's all about letting other people know what you hear in your head (and your heart), whether it is a thought about Spring or the sound of Springtime.

Lots more here.

This old beauty found at Oxford Early Music Festival.
Coming back closer to our time, you can see the music loosen up, take chances, leap, fly.
This lovely thing lives at Yale.
Autograph musical manuscript signed (Thelonious M), Monk's Mood, 1 Page, New York, c.1956-7

Apart from the divine Mr Monk, 20th century music makers have shied away from showing us their direct hand-i-work.  Keyboards and computers come between the fingers and the page.  But with the digital tools available, new ways of showing our eyes the look of music have sprung up.
This video give us Stravinsky's Rite of Spring as an animated score.  Of course Nijinsky basically did that a hundred years ago, with bodies and fabric and genius.
So, we give the last word to the visual artist who deeply understood the look of music.
Music: stop Look listen.