You are currently browsing the category archive for the 'Uncategorized' category.
When you first come across a painting that turns out not to be a painting, but rather an arrangement of pieces of fabric sewn together, you might feel tricked.  But never mind how it's done, your eyes are right: it's got everything a painting should have, except paint.
Canada is not known for boasting, but there's no getting around the fact that it boasts one of today's finest practitioners of the stitched fabric picture.  Her name is Colleen Heslin.  Two Images above and four below from her website and that of Monte Clarke Gallery in Vancouver.
You can't help but think there is a connection between what Ms Heslin is doing and what tailors and seamstresses and emergency room doctors attending to flesh wounds do on a daily basis.  But whatever the connection, you won't be able to hold it in your head very long once you see these pictures live and up close.  There's only room for swooning.
Ms Heslin is one of a kind, through and through.  Still, curiosity got the better of us and a little searching revealed that a few other contemporary artists have put down the brush and taken up the needle.  One is from Denmark and he is Sergej Jensen.
You can find out more about him from this report on a show in Denver 
And to see these and more images in context, just put Mr Jensen's name into mother google's magic window.
People bent on explaining Art are trying their polysyllabic damnedest to claim this stuff for themselves by naming it, for example here. But we'll have none of that.  Let your eyes do all the work, see where they take you.
We landed here, and our last word on the subject is boro.  Apparently Japanese patchwork from quite a while ago.  Crazy boro.
Sometimes the best discoveries don't require meticulous planning, a long journey, or special shoes.  Sometimes you just have to see what's in front of you.
This is some of what Belgian photographer Harry Gruyaert has been seeing and recording for the rest of us over the last 40 years.
He is credited with helping to prove the point that European photographs could be in colour and still be taken seriously.  Not that there is anything wrong with black and white.
Mr Gruyaert claims that he doesn't think much about all this, and he avoids talking about it if at all possible.
The British Journal of Photography did manage to get a few words out of him, which can be read here
All images © 2015 Harry Gruyaert / Magnum Photos
As we noted a while back: "Music, good music, SOUNDS good, of course.  But we've noticed that the best music also LOOKS good."  This time, we've turned our eyes to music on the page, music made  with pen and ink (or whatever) for other musicians to read and play.        Above image from the cover of Stravinsky the Music-Maker seen here

A note from Johannes Brahms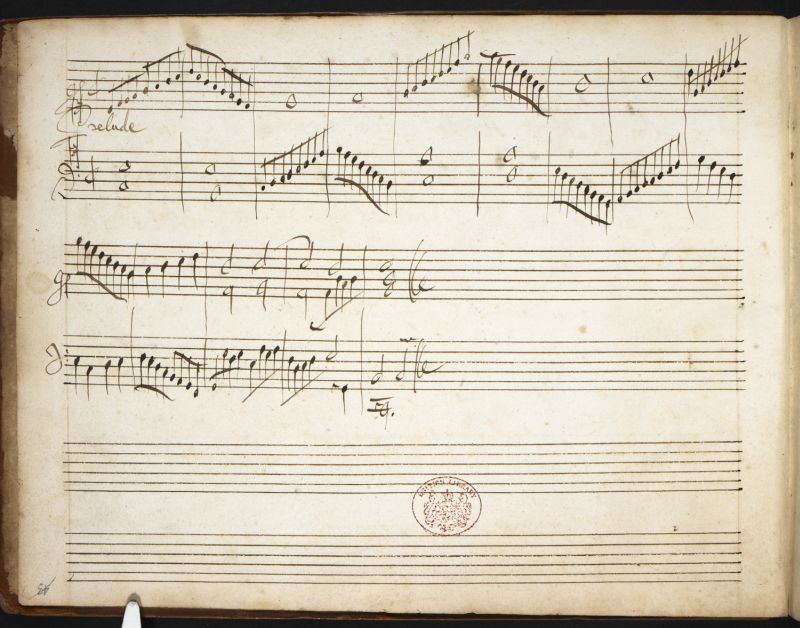 Even if you can't read music, you can tell this is music and you know it sounds pretty good.  Henry Purcell at the British Library

This too.  It is Robert Schumann  @ Yale
Music on the page goes as far back as words on the page.  In either case, it's all about letting other people know what you hear in your head (and your heart), whether it is a thought about Spring or the sound of Springtime.

Lots more here.

This old beauty found at Oxford Early Music Festival.
Coming back closer to our time, you can see the music loosen up, take chances, leap, fly.
This lovely thing lives at Yale.
Autograph musical manuscript signed (Thelonious M), Monk's Mood, 1 Page, New York, c.1956-7

Apart from the divine Mr Monk, 20th century music makers have shied away from showing us their direct hand-i-work.  Keyboards and computers come between the fingers and the page.  But with the digital tools available, new ways of showing our eyes the look of music have sprung up.
This video give us Stravinsky's Rite of Spring as an animated score.  Of course Nijinsky basically did that a hundred years ago, with bodies and fabric and genius.
So, we give the last word to the visual artist who deeply understood the look of music.
Music: stop Look listen.
it's always amazing to see what nature is up to when we aren't there
up there in the wildest places, the farthest places from our small lives, that's where you'll see what can happen without us.  it is always original, never trivial, never trending.
even when these farthest places change because of the accumulated effects of our daily lives. the result is all nature's own–spectacularly un-human,  beautifully bereft of our precious cliches.
We can't help but drop our jaws and shed some tears of admiration before we go back to our day job.  But some have chosen to find work, put down roots and raise families right up against the raw originality (and harshness) of remote places.
This is upper Peru. Life unplugged from everything except life.  It isn't easy of course, but the miracle is that it exists at all.  Found here
And this village is on Greenland in the upper middle of nowhere looking bright, cheerful, remarkably at ease.  Part of a collection here
The only rival to the remoteness of the highest and coldest places on earth are the oceans where, we are told, you might sail for weeks without seeing any land at all
The only mark on this part of the Pacific is an air pocket…
The remotest places have many lessons to teach us, if we will only listen and look, lessons about beauty, humility, responsibility…
Just look .
Image by hiroshi sugimoto (seascape-north-atlantic-cape-breton)
Well among other things, this swell metal THING is apparently new.  We certainly don't have one yet.  Do you?  It has the look of a high-end designer rocket launcher, but maybe it has a more playful purpose.  Anyway it's new.  Found here (thanks Whafe)
At the end of any year, we are all thinking about the NEW 12-pack of months coming up and wondering what actually will be new about it.  After a fairly random stroll around the internet, we found a few things that seem pretty new to us.
This new system above is supposed to help you from backing your car into another car. That's a good new idea, don't you think?  It replaces the yelling, shrieking, honking, fist-shaking system currently in use in most vehicles. The new one is called the Advanced Backup Collision Intervention System, and it's built for the newest model of the Infinity JX. Seen at the House of Japan here.
But you're probably wondering: What's new in nails?  Well, if you want, they can be magnetic!  So it says here.
You want new? origami tea bags!
Parmesan Pencils!!
Mount Fuji tissue dispensers!!!
The above 3 cool new packaging ideas are collected by Bored Panda here.  We saw them first in a scooped collection by ECAL library based in Lausanne, more of which here.
If you can't find yourself something as new as these things right away, you can at least grab yourself a 2013 calendar.
A robot a month
This calendar wall decal is made of  black chalkboard vinyl that you can write on and erase. It is applied directly to the wall.
Both of the above courtesy of Brit + Co
It's your year, go out and get it.  Don't forget to try something new.  Be bold. It feels good.  You'll never regret it.
Well there's no guarantee, but you'll never know till you try, and nothing new happens without taking a chance.  Above from a story in the Guardian here (Photo: Alamy)