You are currently browsing the category archive for the 'Uncategorized' category.
it's always amazing to see what nature is up to when we aren't there
up there in the wildest places, the farthest places from our small lives, that's where you'll see what can happen without us.  it is always original, never trivial, never trending.
Even when these farthest places change because of the accumulated effects of our daily lives. the result is all nature's own–spectacularly un-human,  beautifully bereft of our precious cliches.
We can't help but drop our jaws and shed some tears of admiration before we go back to our day job.  But some have chosen to find work, put down roots and raise families right up against the raw originality (and harshness) of remote places.
This is upper Peru. Life unplugged from everything except life.  It isn't easy of course, but the miracle is that it exists at all.  Found here
And this village is on Greenland in the upper middle of nowhere looking bright, cheerful, remarkably at ease.  Part of a collection here
The only rival to the remoteness of the highest and coldest places on earth are the oceans where, we are told, you might sail for weeks without seeing any land at all
The only mark on this part of the Pacific is an air pocket…
The remotest places have many lessons to teach us, if we will only listen and look, lessons about beauty, humility, responsibility…
Just look .
Image by hiroshi sugimoto (seascape-north-atlantic-cape-breton)
Originally posted May 2016
Sometimes the best discoveries don't require meticulous planning, a long journey, or special shoes. Sometimes you just have to see what's in front of you.
This is some of what Belgian photographer Harry Gruyaert has been seeing and recording for the rest of us over the last 40 years.
He is credited with helping to prove the point that European photographs could be in colour and still be taken seriously. Not that there is anything wrong with black and white.
Mr Gruyaert claims that he doesn't think much about all this, and he avoids talking about it if at all possible.
The British Journal of Photography did manage to get a few words out of him, which can be read here
All images © 2015 Harry Gruyaert / Magnum Photos
When you first come across a painting that turns out not to be a painting, but rather an arrangement of pieces of fabric sewn together, you might feel tricked. But never mind how it's done, your eyes are right: it's got everything a painting should have, except paint.
Canada is not known for boasting, but there's no getting around the fact that it boasts one of today's finest practitioners of the stitched fabric picture. Her name is Colleen Heslin. Two Images above and four below from her website and that of Monte Clarke Gallery in Vancouver.
You can't help but think there is a connection between what Ms Heslin is doing and what tailors and seamstresses and emergency room doctors attending to flesh wounds do on a daily basis. But whatever the connection, you won't be able to hold it in your head very long once you see these pictures live and up close. There's only room for swooning.
Ms Heslin is one of a kind, through and through. Still, curiosity got the better of us and a little searching revealed that a few other contemporary artists have put down the brush and taken up the needle. One is from Denmark and he is Sergej Jensen.
You can find out more about him from this report on a show in Denver
And to see these and more images in context, just put Mr Jensen's name into mother google's magic window.
People bent on explaining Art are trying their polysyllabic damnedest to claim this stuff for themselves by naming it, for example here. But we'll have none of that. Let your eyes do all the work, see where they take you.
We landed here, and our last word on the subject is boro. Apparently Japanese patchwork from quite a while ago. Crazy boro.
Above is an astonishing image, no matter what.  The immediate appeal seems mostly from the shards of strong colour, each piece a bit different from any other, yet they can be grouped in families by hue and shape …  they are close to one another but still separate.  Is this something coming together or falling apart?  Whatever is going on, It somehow generates energy, vibration, vitality,  And more.
Before long, we were thinking about all kinds of things — pixels and mosaic and pointillism, about some artists we like, and well, lots of things, one after the other.  As you will see soon enough.  But before we leave the inspiration above, we must tell you what it is. You may not believe this.
The truth behind the opening image, if truth is the right word here, is this: the top half is a close-up of a portion of a painting executed in 1889 by Georges Seurat.  The lower half is an image photographed through a microscope of the skin of an octopus.  The story of how it came to be can be found here,  Other images are from here, here, and here
For us, this was an invitation, a provocation, a dare to explore the work of artists who compose images, objects, or spaces from spots, or blobs, or dots.  Next thing we knew we were spending a heart-thumping afternoon with the work of Yayoi Kusama.
This room of what seems like leopard skin spots is something called the Spirits of Pumpkins, found here. along with a recent message from Ms Kusama that is, as expected, all her own.
The photo above the room is the artist amid those Spirits, found here
Here she is signing a piece of her work, from a 2018 film directed by Heather Lenz, seen via the Museum of Fine Arts Houston website.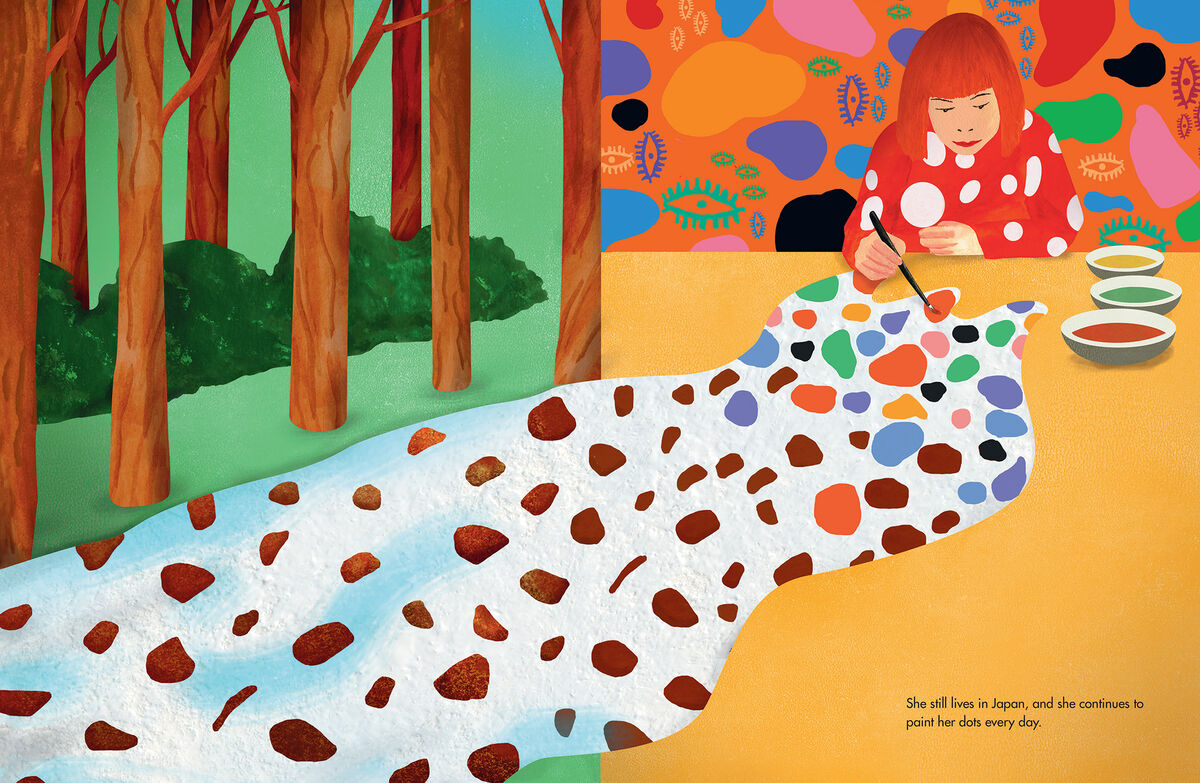 This incomparable artist from Japan, is still going strong at 91.  Those who like to talk about her art often call the exuberant explosion of small shapes in her work "polka dots".  We don't know how Ms Kusama feels about that, but to us, Polka Dots are the stuff of uncomplicated fun, ephemeral simple pleasure, perkiness–Minnie Mouse's dresses, for example. Yayoi Kusama's productions are certainly fun, but nothing about them is ephemeral, and no one would every find them mousey.  Perky?  well….maybe percolating or percussive or…
Anyway, we think they represent something of what she sees in the world, how it is built of little pieces as opposed to being a continuous fabric, whether inside the screen of a $2000 phone or a river bed or a Linden tree.  It's the same message we got from the Octopus/Seurat image that started this.
Who knows. But that idea/feeling does seem to be somewhere near the heart of her emergence as an artist as presented in a beautiful MOMA book "'for children" about YK titled From Here to Infinity written by Sarah Suzuki, a curator at The Museum of Modern Art, New York, with illustrations by Ellen Weinstein. Found here and in great bookstores everywhere.
As with most great artists, we find it doesn't pay to spend too much time on the ideas behind the work when there is so much to be gained by just looking.  So, whatever is going on here,  Wow.
That OctopuSeurat image did open a few other avenues that seem worth exploring, which we will offer up soon in I See Spots Two/Too.  Here is a taste of it.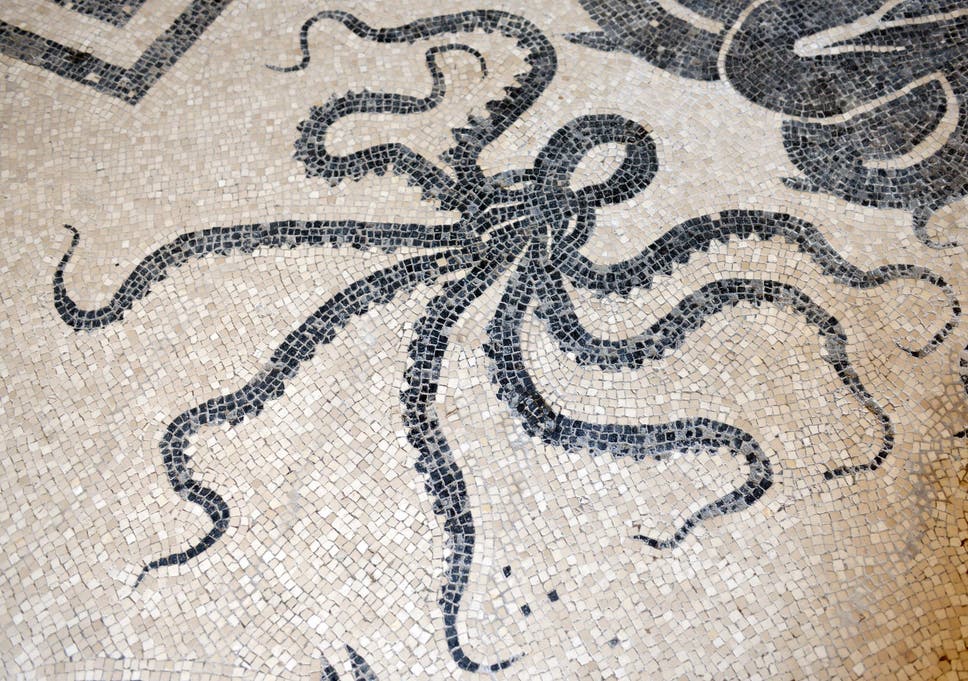 see you soon
As everything around us seems to be getting bigger, we are feeling the pinch and reminded of the inherent virtues of smallness.  Doing more with less continues to be a powerful idea–and an admirable choice for those who can well afford to have more.  Artists from far and wide and then and now have shown us, over and over, the magic of small productions.
Alexander Calder, best known for very large sculptures in front of very large buildings in very large cities, never lost sight of the special charm of small work you could hold in your hand intended for a small audience.
This set was made by Mr Calder as a gift for a friend.
Glass is a perfect medium for making hold-n-your-hand-sized sculpture.
These little creatures made of glass are on display in a gin joint in Amsterdam.
The glass menagerie below was dreamed up by Kiki Smith and the critters were made by Venetian Pino Signoretto.  It is at home at the Corning Museum of Glass in NY.  
But this devotion to smallness is not an invention of our time. We humans–all over the world– from our earliest days have dedicated time and talent to making small versions of ourselves.
Each just a few inches tall (the wall behind them is made of standard sized bricks), these ancient little men are captivating to modern eyes.  Conceived long before the electric light or glass shelving, they are now at home in a Danish museum.  Meanwhile, in Canada, visitors to the Montreal Museum of Fine Arts can have their mood swiftly elevated by the little man below.
Small scale also works wonderfully for two dimensional art.  In 16th century England, the Kings, Princes, and their pals, who could afford just about anything, any size, found they had a deep attraction to the smallest of paintings–miniature portraits.
That's the eighth king named Henry, no Tiny Tim he, and a woman fittingly named Jane Small.  North Americans in the 18th century took to the same notion, not just Kings and their social circle this time, but plain proud people wanting a keepsake. This is Lottie Hills aged 15 painted by Rufus Porter, "inventor".
Stamps!  Engravers, mostly anonymously, spend their working lives and eyes to give us this to put on our envelopes for delivery near and far.  From the 20th century, however, the artists were more frequently acknowledged.
These three above were all issued in 1978 by Monaco to celebrate Conte de Perrault who collected and published versions of these famous 'children's stories.  Artists top to bottom are Eugène Lacaque. Jacky Larrivière. and Claude Jumelet depicting tiny boy Tom Thumb.  Stunning images found here.
Wow, this love song to small is getting more than a little long.  Out of respect for the theme, we'll stop here for now and pick it again after a small break.