You are currently browsing the category archive for the 'small' category.
Clowns tell us a lot about ourselves and our lives. The best of them reveal some sadness or strangeness or both while doing their best to amuse us.  The overall message is: you might as well laugh because, well, life isn't always a piece of cake, sometimes it's a pie in the face.
Clown figurines of tin or ceramic seem to carry an extra layer of sadness and oddness after a few years.  Maybe there is a contradiction between what we see now and the smiles the little joker was meant to induce.  Crawling clown toy, 1900, from here
But for all the contradictions, we can't stop smiling at this little gang of kidders.
According to Tracey's Toys:
"The Rolly Dollys first appeared in 1902 and were produced through the 1920s in over 70 different styles. Some were based on advertising or cartoon characters like Buster Brown and Foxy Grandpa, while others represented children, clowns, police officers, and more."
Foxy Grandpa??
Is this him?
All in all, the clown whether he is a comic actor, a circus performer, a tin toy, or cookie jar (above) has a long history and a continuing important function in human society.  Is there sadness underneath it all?  Is there misery and madness?
Well…maybe.  But we all have a choice to see the soda spray bottle half empty or half full.  Is the whoopee cushion a cry for help?  Or just a perennial boyish prank.  We come down on the side of mirth.  Release the clowns!!!
Play on fellas.  Do you know "My Funny Valentine?"
Here is a Sunday on the Island of La Grande Jatte (detail) (1884) for which we have Georges Seurat (b 1859) to thank.  And we do, as do lots of people these days, but it did take a while for those living in his own time to get over their surprise at this picture.  What's with the dots?
M Seurat took some science (of optics and colour), a lot of experience as a painter, and a bold leap into new possibilities, and then let his talent do the rest.
He believed that the eyes of a viewer of this painting would receive the dots/pointes of colour and generate a new, unified, visual experience.   Something very personal, something very special.
He was right.
Someone called it pointillism. These pictures received a lot of attention in his lifetime, both from those who were genuinely impressed and from those who seemed convinced he was trying to destroy something fundamental about painting.
To us, Seurat's paintings (and most of the best visual art since then) elevate our role as viewers. We play a central part in determining its impact, its value.  It is not a cookie to be chewed and swallowed, it is a recipe and a few key ingredients made available for us to make something for ourselves.  That process gives us something we didn't have before.
All the works of George Seurat are conveniently pictured here.
Today, the mystery is not so much how this works, the mystery is how this idea came to M Seurat in the first place?  Our (very amateur, fingertip, easily distracted) 'research' has led pretty much nowhere in terms of scholarly evidence on that point. We found no statement from the man himself–if it exists, it lies beyond our reach. So let's plunge in with a suggestion as to one possible source of inspiration that just might have played a part.  Maybe.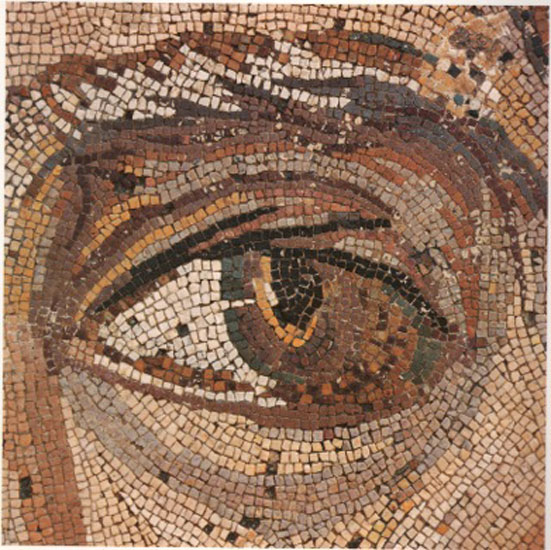 This Mosaic is from 'Ancient Greece', a 2000 year old survivor, almost intact, a portrait made entirely of small pieces of coloured stone.  The mosaic form of image making is present in the oldest cultures of Western Asia and Europe –Mesopotamia, Greek, Roman, Byzantine…M. Seurat may have encountered a relic or two, and it may have influenced his decision to paint pictures with dots of colour.  Just saying.
But even if he didn't, their existence and the undisputed reality of La Grande Jatte, so many years apart in different parts of the world, would seem to suggest: there is something fundamental in this desire among humans to making pictures out of pieces.  And for us to marvel at their effect on us.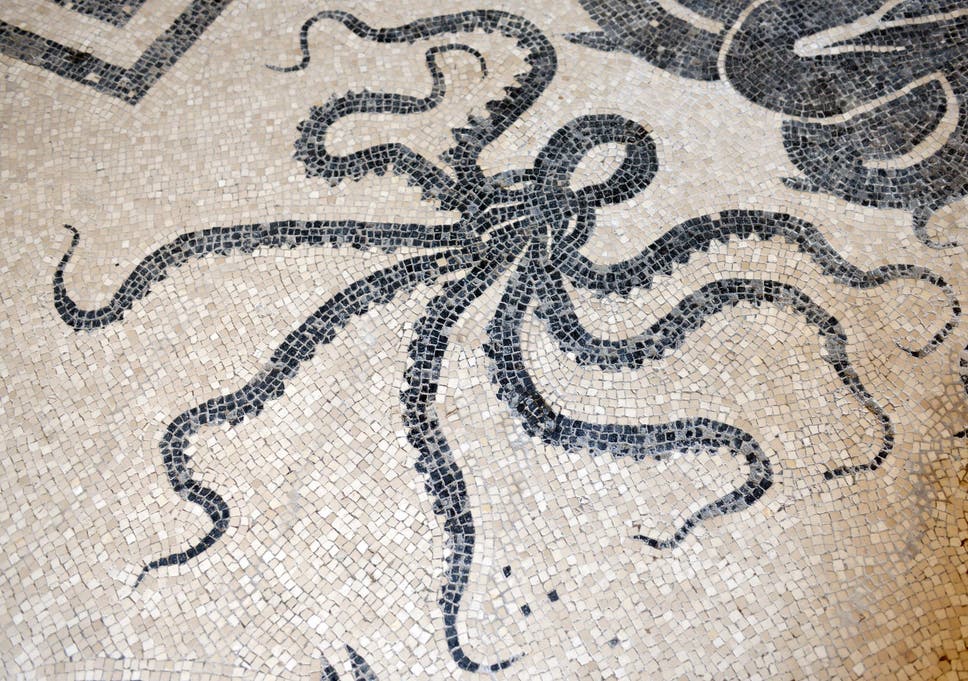 The history, longevity, variability, and sheer beauty of ancient mosaic images is truly stunning even in our age of a million digital images for many subjects (e.g. "About 136,000,000 results (0.60 seconds)" for "Images Lady Gaga", who we like too).  Both of the above from Pompeii. Destroyed/buried by ash from a volcano almost 2000 years ago, first excavated in 1600, then again and again into the 21st century… See and learn more from here and here.
Which brings us to Chuck Close, American Artist born 1940 in the State of Washington, USA
The above painting, in watercolour and pencil, is a portrait of "Keith" 1979.  Above that, a close up of some of  the squares, all of them about the same size, that make up the image.  From Reynolda House                        Credit Line Reproduction: © Chuck Close, courtesy The Pace Gallery. SEE HERE.
             Photograph by Al Mozell, courtesy Pace Gallery
Here is Mr Close's portrait of the composer Philip Glass--again 'hand painted', this time (it seems) the hand in direct contact with the paper.  As a relative of ancient mosaics, "Philip" seems to us less Greco/Roman and more Mesopotamian/Byzantine.  If you are following this homemade ragged string of thought we're weaving.
Mr Glass seems a perfect subject for Mr Close.  Both manage to produce Big Impact by means of intricately arranged small pieces.  Repeated but not identical.  Result often Hypnotic.
                              © Chuck Close
Agnes Martin, artist, painted by Chuck Close in 1998.  This MUCH more colourful phase of this singular painter's career was a surprise–not just for the colour, but because of its inventiveness and the fact that Mr Close by this time was mostly paralyzed from the waist down. The result boggles a lot of minds including ours.
So where are we now with this hop, skip ,and jump from Paris 1884 to Pompeii 79(AD) to Portraits1998….are these connected in a way that helps us understand anything better?  While we're thinking…….
Let's go back to where we started.  Paris.  On the ground.  What's going on?
There is no accounting for some things–maybe most things.  Like foxes.  Sure, there are bound to be lots of learned people who can account for their successful presence in our century—a tidy tale of persistence, luck, intelligence, more luck—but how exactly do we account for the presence of these creatures in our thoughts, our consciousness, when we are supposed to be doing other things entirely?  Foxes!?
Above a swift fox and her kit in the Canadian Prairies. Photo: Colleen Gara/CanGeo Photo Club. Below from the series Nature produced by PBS.

Why are foxes–swift, smart, stealthy, slam dunk cute–why are they so present, tip-toeing and nosing around on the edges of our daily attempts to think big, non-foxy thoughts about big challenges? Was it that documentary we saw a while back about a fox family in Newfoundland?  Or did that just trigger something that was already planted long ago?
Wherever you find people reading for pleasure, particularly young people, you are likely to find someone lapping up a tale or two about a fox.  And there's about a 50/50 chance that the fox in the story is wearing clothes and doing something usually done by a human, especially in a French book.  Great photo of French children reading by A Kertesz.
From early editions (1883) of Pinocchio with drawings by Carlo Chiostri
The fox has been slipping into stories for as long as stories have been told, and as soon as books were printed, there he was with pointy nose and fluffy tail ready for mischief.
Fox above from Aesop's Fables: a translation by V.S. Vernon Jones, with an introduction by G.K. Chesterton and illustrations by Arthur Rackham. Aesop gave us the Fox and the Grapes, The Fox and the Stork, The Fox and the Crow, The Fox and the Monkey, the Fox and the Goat…and more fox tales.  These stories are 2500 years old.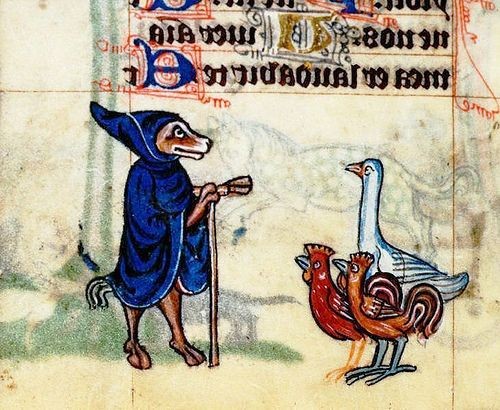 You can hardly get through any of the earliest books produced by hand without encountering a fox or two.  Small yes, but often in charge of the action.
17th Century Dutch tile.
21st century garage door, improved by Stewy
For now, let's chase our foxes outside– out of books, out of the city , out to the wild where they surely are at their best.
Winslow Homer found this fox outside in Maine in Winter, dodging crows.
Back to Newfoundland, a  Red Fox in the tall grass
On the coast…
Going somewhere else (for now)
There is a lot to say, we think, about the value and attraction (and sometimes strangeness) of smaller things.  It seems only right to dish out the goods in portions.  Welcome to sm2.
In 1952, the Dutch launched a good-hearted campaign challenging the notion that bigger must be better by building something grand on a very very small scale.  Madurodam in the Hague is a mini-representation of Holland as a whole that can be wandered through in half a day.
Houses, public buildings, canals, canal boats, railways, airport…tiny tulips and cheeses. The effect on the Dutch and the zillions of visitors seems to be calming, amusing, reassuring.  So cute.
The idea has spread. There are now "miniature towns" all over the place–many in the UK, many in Asia, maybe one down the road from you. Their success says something about what appeals to us, almost all of us, for escape and amusement.
But how about the real spaces we need to live in and work in.  How small is just right?  Well we live at a moment when smallness is all the rage in houses.  You've seen the pictures, you've found yourself cooing "ahhh, look at that!".  Here's a few we found at our fingertips:
Aren't they adorable?  We are as smitten as anyone by these diminutive domestic dwellings, but being of the wondering kind, we wonder if this craze might just be an economic necessity wrapped in a personal preference, dusted with big dollop of copy-catism, and bound together with quite a large dash of moral superiority.
But hey, it is also entirely possible that these are, in fact, just what we all need
But but…OK just one more, inside and out, from Brazil, all white.
Our local art gallery is currently presenting a show called "cabin fever" running all summer if you are in the area.
Images of these houses rarely show any people in them so it is hard to gauge how effectively they serve the real needs of actual living and working.  But there is strong evidence to show that great things can be achieved in modest surroundings.
E.B. White (the New Yorker, Charlotte's Web, The Elements of Style, etc etc) hammered out some of the most graceful, beautifully realized sentences in any language on a bench in a tiny cabin with a view of salt water.  The spare, plain, durable qualities of the cabin and everything in it perfectly match the products of Mr White's mind and fingers.
Producing great work, it seems does not (always) require a lot of space.
Joan Miro at work, no bench, no table, no window, no ocean, no net.  Art needs only the artist.
So maybe we can live smaller, a lot smaller, without giving up the dream of doing great things. ……………………………………………………………………………………………………………….
Adorable small houses designed by:
bornstein lyckefors architecture
As everything around us seems to be getting bigger, we are feeling the pinch and reminded of the inherent virtues of smallness.  Doing more with less continues to be a powerful idea–and an admirable choice for those who can well afford to have more.  Artists from far and wide and then and now have shown us, over and over, the magic of small productions.
Alexander Calder, best known for very large sculptures in front of very large buildings in very large cities, never lost sight of the special charm of small work you could hold in your hand intended for a small audience.
This set was made by Mr Calder as a gift for a friend.
Glass is a perfect medium for making hold-n-your-hand-sized sculpture.
These little creatures made of glass are on display in a gin joint in Amsterdam.
The glass menagerie below was dreamed up by Kiki Smith and the critters were made by Venetian Pino Signoretto.  It is at home at the Corning Museum of Glass in NY.  
But this devotion to smallness is not an invention of our time. We humans–all over the world– from our earliest days have dedicated time and talent to making small versions of ourselves.
Each just a few inches tall (the wall behind them is made of standard sized bricks), these ancient little men are captivating to modern eyes.  Conceived long before the electric light or glass shelving, they are now at home in a Danish museum.  Meanwhile, in Canada, visitors to the Montreal Museum of Fine Arts can have their mood swiftly elevated by the little man below.
Small scale also works wonderfully for two dimensional art.  In 16th century England, the Kings, Princes, and their pals, who could afford just about anything, any size, found they had a deep attraction to the smallest of paintings–miniature portraits.
That's the eighth king named Henry, no Tiny Tim he, and a woman fittingly named Jane Small.  North Americans in the 18th century took to the same notion, not just Kings and their social circle this time, but plain proud people wanting a keepsake. This is Lottie Hills aged 15 painted by Rufus Porter, "inventor".
Stamps!  Engravers, mostly anonymously, spend their working lives and eyes to give us this to put on our envelopes for delivery near and far.  From the 20th century, however, the artists were more frequently acknowledged.
These three above were all issued in 1978 by Monaco to celebrate Conte de Perrault who collected and published versions of these famous 'children's stories.  Artists top to bottom are Eugène Lacaque. Jacky Larrivière. and Claude Jumelet depicting tiny boy Tom Thumb.  Stunning images found here.
Wow, this love song to small is getting more than a little long.  Out of respect for the theme, we'll stop here for now and pick it again after a small break.