You are currently browsing the category archive for the 'paper' category.
As we noted a while back: "Music, good music, SOUNDS good, of course.  But we've noticed that the best music also LOOKS good."  This time, we've turned our eyes to music on the page, music made  with pen and ink (or whatever) for other musicians to read and play.        Above image from the cover of Stravinsky the Music-Maker seen here

A note from Johannes Brahms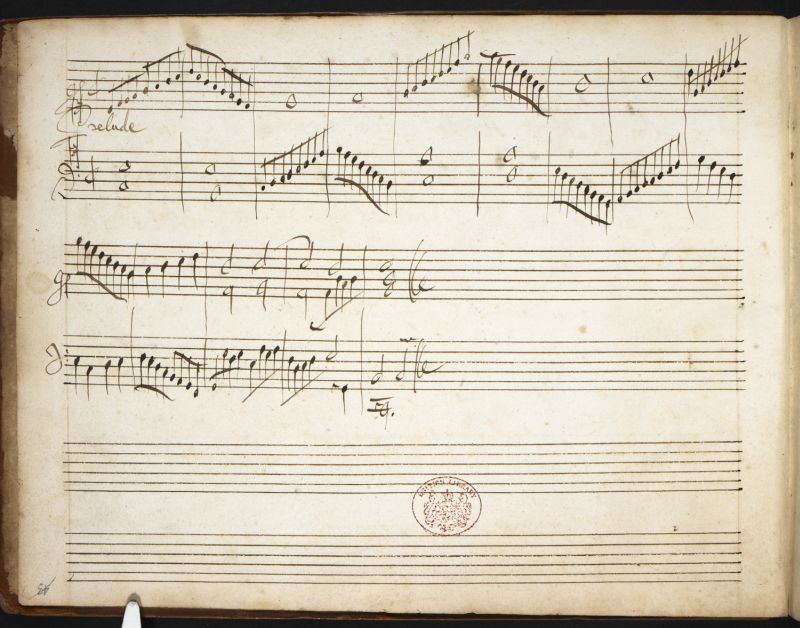 Even if you can't read music, you can tell this is music and you know it sounds pretty good.  Henry Purcell at the British Library

This too.  It is Robert Schumann  @ Yale
Music on the page goes as far back as words on the page.  In either case, it's all about letting other people know what you hear in your head (and your heart), whether it is a thought about Spring or the sound of Springtime.

Lots more here.

This old beauty found at Oxford Early Music Festival.
Coming back closer to our time, you can see the music loosen up, take chances, leap, fly.
This lovely thing lives at Yale.
Autograph musical manuscript signed (Thelonious M), Monk's Mood, 1 Page, New York, c.1956-7

Apart from the divine Mr Monk, 20th century music makers have shied away from showing us their direct hand-i-work.  Keyboards and computers come between the fingers and the page.  But with the digital tools available, new ways of showing our eyes the look of music have sprung up.
This video give us Stravinsky's Rite of Spring as an animated score.  Of course Nijinsky basically did that a hundred years ago, with bodies and fabric and genius.
So, we give the last word to the visual artist who deeply understood the look of music.
Music: stop Look listen.
Sometimes you spend time looking at children's books because there is a child in your life that you want to please, and sometimes you just want to please yourself.   Above is from an edition of the Wizard of Oz illustrated by Lizbeth Zwerther seen here.
Happily, books are alive and well in stores for kids, and  if  you go looking,  you will find in these little books the work of some of the most gifted and imaginative artists/illustrators/cartoonists from around the world. Above is from a recent book called ICE written and illustrated by Arthur Geisert who is very fond of little pigs, as are we. Read more here.
Above three books are just a sliver of Mr Geisert's shelf of wonderful work, which has plenty of pig tales, but plenty of pigless wonders  too.  See more here.
Once you start down this path you will find yourself with a lot more than you bargained for.  If you could only have one, how would you choose between a pig tale by Arthur G or a rabbit tale by Komako  Sakai?
Ms Sakai is certainly something special.  Her simple stories and beautiful way with line and colour will fill your eyes and pinch your heart.  She has worked in the textile industry in Japan, they say. More about her books here.
Bears of course have a solid place in children's stories too.   Thanks to Jon Klassen, there's a new bear on the block and he wants something.
Nice review of Mr Klassen's book in the NYT here
Along with creatures of the farm and the woods, book artists have found plenty of inspiration among the critters that become part of the household.
Like the wonderful Max brought to life by the wonderful Maira Kalman.  Go here
People who love picture books love them as much as other people love chocolate or ABBA–i.e. totally.  There are many wonderful websites with tons of these books to show you, including Children's Illustration, which you'll find and feast on here.
To send you off, we selected Paul Thurlby an artist from England who, among lots of other things, has made an amazing alphabet, which you'll find on his site here.  Books and pictures, sentences and pictures, letters and pictures, they all go together like summer and running through the sprinkler.
of
Here at less, we are fans of a lot of uncommissioned public art, namely the kind that 1) makes you smile 2) makes you admire how well it is made and 3) makes you glad no damage was done in providing you with this unexpected smile.  The category of u.p.a. that succeeds most often on all three scores is the kind that people stick on walls with paste.  Like this swell white rabbit.
As you can see he's just a little guy on the run caught in full motion on a nice blue/grey wall, found here
Here's a white dog or doggish creature  stuck on a wall in a lavatory in Melbourne, where quality public art of the non-commissioned kind seems to thrive.  This colour spewing critter is the invention of an artist named Ghost Patrol, who is said to be one of Melbourne's most prominent artists.  See here.
According to the internet, at least, the top spots for really good stick-on art are Australia (Melbourne and Fremantle) and England (Bristol and London)
This fine little two dimensional shamrock green dachshund lives in London.  He was spotted by the keen-eyed, generous, prolific photographer mermaid99, bless her heart.  Find the pooch and much much more from the mermaid here.
Looking for the uni-coloured dachshund is this colourful kitty, another mermaid 99 find in London  here.
pretty weird squidman in Mexico City.
And here's a lovely bird, a swallow stuck up in Rye, East Sussex England.  The artist goes by De Wilde when he's outdoors.  See this fine woodcut and more here
The finders of this paste up, called "Hello Stranger", on a lamp post in North Oakland CA, are Alex and Allison who rightly point out that it is equal parts pretty and sinister, as all good childrens' tales should be, we think.
This is just swell, another one from Melbourne.  Thanks to we heart it 
Why is it that "Steve" is the perfect name for this little white dino?  Go here to meet Steve and other Fremantle sights.
These two bandits are having a lot more fun than Bonnie and Clyde.  Found here at a site called Oakown Art ("an exposé of cool public art & culture in and around oakland, california").  The artist goes by "Get Up".
Below, three finds of our own in Paris, 2011.
On this one old wall you'll find a white paste up figure of indeterminate species grasping maybe a large slice of pizza and a coffee (?), a nifty green octopus attacking…Popeye (?), and a whole bunch of tulips.  Also way at the top, a space invader.
And here's a dapper masked fellow with a rosy fleur for his sweetheart.
And here is another sweet little space invader eyeing/protecting a sweet little cafe.
Space Invader is all over Paris (and quite a few other places too).  These are also stick-up art but made of ceramic tile not paper so they last and last.  They have become part of the fabric of Paris, not a poke in the eye, but an unexpected treat for those who love the sight of children at play without supervision.  This image from here
Let's give London the last smile:
Again thanks to mermaid99  for this fox. Find it here.  The artist is Surianii.
We hope things have started on the up side for you so far this new year. Here are some posters to celebrate the fresh start and to cheer up your eyes.
Above is a fine celebration of celebrating by Michael Engelmann (1928 – 1966). Found here .  You'll find a lot more of his work in a recent book, one of the International Poster Collection series published in Zurich, cover below.
Above is from Aqua Velvet, here. And there's more Michael Engelmann at the MOMA,here.
After drinking and smoking sometimes there's blushing.  This great blush was made by French artist Catherine Zask from here
Cathrine Zask is featured with her own volume in the International Poster Collection series (image above from that), see aqua velvet again and her own swell website.
The new year is the ideal time to make lists.  Let's see, number 1….
Well let's try number 2….
Above both by the acclaimed Paula Scher of Pentagram.  See  here and here
And if you don't have a 2011 calendar to keep track of it all, you might want to get one of these:
There's 11 more months too, a project by Marin Santic seen on the Behance Network here.
The best thing about 2011 is that it hasn't happened yet.  It's still a seed underground.
How cool is that?
Polish movie poster, for Crocodile Dundee, from here. In a previous post about movie posters, we at the R of L remarked on the the amazingness of Polish graphic designers, especially in the creation of posters. And not just for movies, look what they did with the circus (CYRK).
These 4 contemporary CYRK posters above were first created in 1962, when the Polish state circus agency commissioned leading artists to develop a modern approach to the circus poster. Collected and presented by Rodrigo Butori, a Brazilian advertising Art Director/Associate Creative Director, living and working in Los Angeles, CA. His website in praise of (mostly) Polish posters is here.
Two more posters from Poles–for opera ("Aida") and theatre ("a month in the country")–also shown by Rodrigo Butori.
Above wonderful Polish poster for…something, spotted here.
And another, for a 50th anniversary, seen here
Returning to movies, above is a lovely depiction of 3 classic Charlie Chaplin films. It is the work of Jerzy Skakun and Joanna Górska seen here (in the company of hundreds more)
Let's close this visit to Poland, for now, with a poster for the amazing film "Playtime" by the one and only Jacques Tati as interpreted by the playful Pole Jerzy Flisak. Seen here