You are currently browsing the category archive for the 'ordinary/extraordinary' category.
Here at the republic, we've been hearing it from all over the map:
things have changed,
people have changed
whatever you were counting on, you'll need to count on something else...
the party's over, the merry–go–round is broken, and the tools to fix it are all gone.
We take sorrow seriously here, and sadness, and dispair. And grief. And there is a lot of all of this around, and we are not the ones to say to anyone: just get over it sunshine, nor do we deal in advice.
No matter what any of us feels about all this right now, what we can say for sure is this: nobody knows for sure where we are all headed.(some 8 billion of us, not including household pets).
---
But the fact that we don't/can't know what will happen tomorrow means, among other things, that we can count on a few surprises, discoveries, and once in a while: a truly "wow" moment or two. And there are lots of people out there who, every day, take on the job of making and delivering a one-of-a-kind experience for us–in music, in sculpture, in paint, in pixels. in steel wire and water. As always.
Around here, our general approach to what's going on lately, and to most things before that, is to stand back and look at the big picture while clinging to a few simple, but sometimes overlooked, facts.
Such as the fact that we all live in the middle of nowhere (ok, "space"), there is no backup generator to provide heat, light, and water, virtually all of the people in the world have no idea who we are, each of us has and expiry date, we don't know what love is, or how to find it….or keep it.
We all know these things to be true, apparently, and yet lots of humans, lots and lots, manage and have always managed, to not just carry on, but to rise above our sketchy circumstances and make something, which is by itself an act of defiance in the face of our precarious circumstances. And among the makers, we have a special fondness for visual artists, for (some) architects, and performers who risk everything.
Whatever is coming down the pipe for us in the next decade and beyond, there is no doubt whatever that all over the map there will be original images, objects, structures, and experiences, made by humans of all sizes and shapes and circumstances. And some of these 'works' will stop you in your tracks and adjust your dials. All right here on this rock in the dark. Because that's who we are.
With that in mind, we had a look around for a few recent examples of what humans get up to when they take on the job making something new. We have made a point of not thinking too much about the impact of work like this. Mostly it is love at first sight followed by "yes" Which sometimes leads to love.
__________________________________________________________________________________________
Regine Schumann
This artist works and lives in Cologne Germany. We first saw this just a few days before selecting it for this post. It definitely says Yes to all the right questions. Thank you Ms Schumann
—————————————————————————————————————————–
Shio Kusaka
Ordinary/Extraordinary. Clay, glass objects suitable for the home, any home, now, tomorrow or 100 years ago. Very nice.
——————————————————————————————————————————————–
Vilhelm Sundin
We saw from across the room a picture of a heavy snowfall in a city. Up close we saw the snow was moving, falling. It was a beautiful thing. Silent. All of us see so much video all day all night. How much of it is beautiful?
Video art by Swedish born Canadian artist Vilhelm Sundin can be viewed in person at Monte Clark Gallery in Vancouver
———————————————————————————————————————————————————————-
Patkau Architects, Patricia and John, Vancouver BC
Interior of the Audain Art Museum in Whistler BC. If you visit no other building in Canada, visit this one.
Patricia and John Patkau and their team are among the very best in their profession anywhere. oh yes.
———————————————————————————————————————————————————————-
Tham + Videgard Architects
Scandinavia is always worth a look for the kind of design and production of objects, from cutlery to houses and public buildings, that whispers "quality" "quiet" "sensible" and "uncluttered". A team of Swedish architects, Bolle Tham and Martin Videgard now at work is producing their own portfolio of houses and public buildings (etc) that embody these qualities –with very clean and quiet and tasty results. Brace yourself
———————————————————————————————————————————————————
Olafur Eliasson artist Danish + Icelandic + multimedia + prolific
Mr Eliason has built a unique practice and continues to search and surprise.
You can hear him talk about what he does in this video
You can see a new exhibition of what he does this Fall in New York City at the Frick Madison
———————————————————————————————————————————————————
James Turrell Light + Space
Mr Turrell creates spaces filled with light. People linger. Something happens. He has been doing this for a long time. There is nothing like it and no one like him.
Current exhibit at Mass moca in Massachusetts
———————————————————————————————————————————————————
Ai Wei Wei ARTIST. Provocateur. Man of the World
Ai Wei Wei is a truly international/world artist. He delights as much as he disturbs. You feel you might welcome him to your home and yet is one of the most famous people on earth. His work always provokes in some way, it raises issues often overlooked. But he never preaches. He makes things. Happen. For which we can all be grateful
---
And, just to put this in perspective, a long time ago in a desert in Peru someone and their friends made something to be enjoyed by birds and space travellers. That's who we are.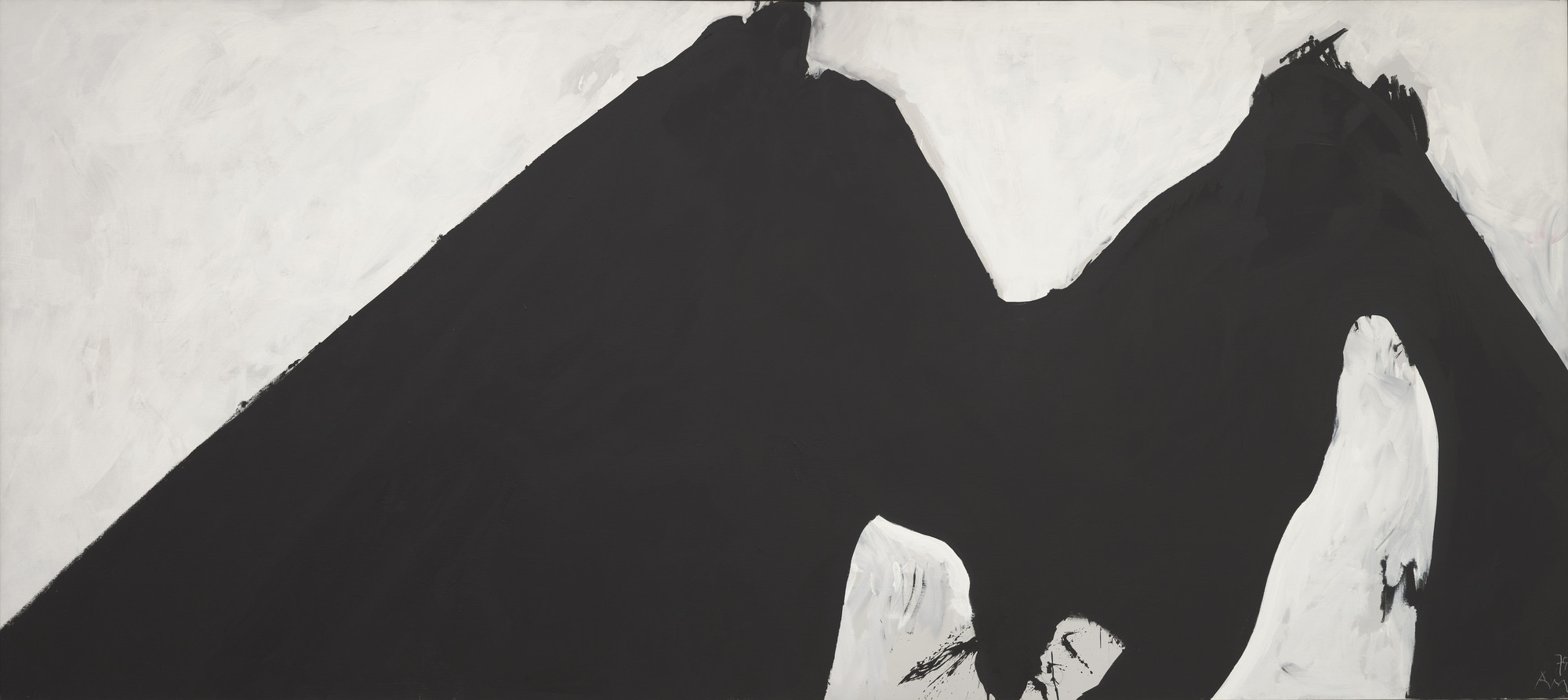 So here at the end of the year/beginning of the year, we find ourselves thinking about what matters most/what matters least.  Through all the buzz, all the fear, all the lunacy, all the loss, what starts to matter more and more to some of us is that humans are also very well equipped to make something BEAUTIFUL and never before seen. Hold that thought. And take a look up there, that, made by Robert Motherwell.  (it's now at the MOMA).
Who knows why, but the objects of eye-popping beauty-made-by-humans that rush to the front of the mind, for us at least, so often seem to be those made with the simplest palette of all: Black. White. Black + White. Look up, the amazing Mr Calder, his amazing THING, all BLACK set in a white, light filled room.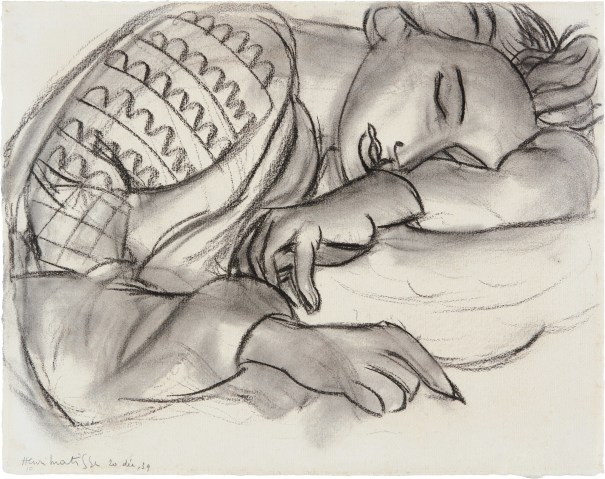 And then there is Henri Matisse, no slouch with colour, he was, but often, OFTEN, he put the reds and blues and acid greens to one side and made DRAWINGS–in charcoal, graphite, conte, ink,   No colour necessary.  None.  It's all there.
Oh good gravy, even simpler even more reduced and amplified.  Achingly beautiful.  H. Matisse, encore.
Not sure who she is, but Maria Likarz Strauss (1928 Vienna) is up to the challenge embracing colourlessness in the name of striking go-tell-someone-about-this-ness.
The pen + the ink for centuries the main way of conveying information from one hand and one mind to one pair of eyes.  We have other tools now,  but even so, the power and seductiveness of the inked line has no competitor.  Artists everywhere know this.  Paul Klee knew it.  Intimately.    Thankfully
The 'white' of Mr Klee's drawing has drifted in the direction of sand or warm chocolate milk, as opposed to say snow or salt.  We approve.  Found here.
O
Wassily Kandinsky made some of the most colourful pictures of the last 100 years, but he too sometimes paused, took a breath, and showed us the power of B+W, musical, explosive..
Keith Haring.  Young. Subway artist.  Gifted draftsman. Brief life.  Draped in black. And white.
We are not done with this dark/bright discussion.  But for now, a pause, the last word, for now, to A. Calder again. Giving us a wire "drawing".   Aquarium.  It's all there.
Originally posted in January 2019
Clowns tell us a lot about ourselves and our lives. The best of them reveal some sadness or strangeness or both while doing their best to amuse us.  The overall message is: you might as well laugh because, well, life isn't always a piece of cake, sometimes it's a pie in the face.
Clown figurines of tin or ceramic seem to carry an extra layer of sadness and oddness after a few years.  Maybe there is a contradiction between what we see now and the smiles the little joker was meant to induce.  Crawling clown toy, 1900, from here
But for all the contradictions, we can't stop smiling at this little gang of kidders.
According to Tracey's Toys:
"The Rolly Dollys first appeared in 1902 and were produced through the 1920s in over 70 different styles. Some were based on advertising or cartoon characters like Buster Brown and Foxy Grandpa, while others represented children, clowns, police officers, and more."
Foxy Grandpa??
Is this him?
All in all, the clown whether he is a comic actor, a circus performer, a tin toy, or cookie jar (above) has a long history and a continuing important function in human society.  Is there sadness underneath it all?  Is there misery and madness?
Well…maybe.  But we all have a choice to see the soda spray bottle half empty or half full.  Is the whoopee cushion a cry for help?  Or just a perennial boyish prank.  We come down on the side of mirth.  Release the clowns!!!
Play on fellas.  Do you know "My Funny Valentine?"
Sometimes the best discoveries don't require meticulous planning, a long journey, or special shoes. Sometimes you just have to see what's in front of you.
This is some of what Belgian photographer Harry Gruyaert has been seeing and recording for the rest of us over the last 40 years.
He is credited with helping to prove the point that European photographs could be in colour and still be taken seriously. Not that there is anything wrong with black and white.
Mr Gruyaert claims that he doesn't think much about all this, and he avoids talking about it if at all possible.
The British Journal of Photography did manage to get a few words out of him, which can be read here
All images © 2015 Harry Gruyaert / Magnum Photos
The world is (still) full of wild things, plenty of them pretty weird in appearance and habits. Yet we humans have never been satisfied with nature's menagerie. Since way back when, we have imagined things even more wild and more weird. Like this unnerving critter photographed by Nhung Dang (spotted here).
No surprise the Japanese have been heavily into conjuring up unusual creatures from the imagination. There was a whole show of them in London.
The USA can claim many producers of eye-poppng imaginary animalia, sometimes under the banner of Folk Art, sometimes Outsider Art, sometime…Art. This wild dog was here.
And in the USA, there is no shortage of well produced, well attended shows featuring objects and drawings of creatures who have never actually roamed the earth, but which are very much alive in the minds of some artist.
And then there is England, which might hold the all time record for the number of its citizens who have turned their imagination and their natural skills to the rendition of new life forms. The above drawing is a collaboration of two sisters born in the 1840's with time on their hands and wonderful, playful minds. Here's the story.
Kate Bradbury, a current artist from England, emerged late, blossomed quickly, makes things no one else could never dream of. This is her Angel. More

Let's give the last word and image to the Asians. Eunmi Chun is Korean, and she makes animal figures out of dried intestinal skin and human hair (sometimes gold-leafed), beautiful forms sewn together, see here.
Wild. Thing. You make my heart sing.
Nature is the crucible, churning out an infinite variety of living things. And still, some of us turn our heads and minds to the invention of things that, so far, never were.
Wild.