You are currently browsing the category archive for the 'ordinary/extraordinary' category.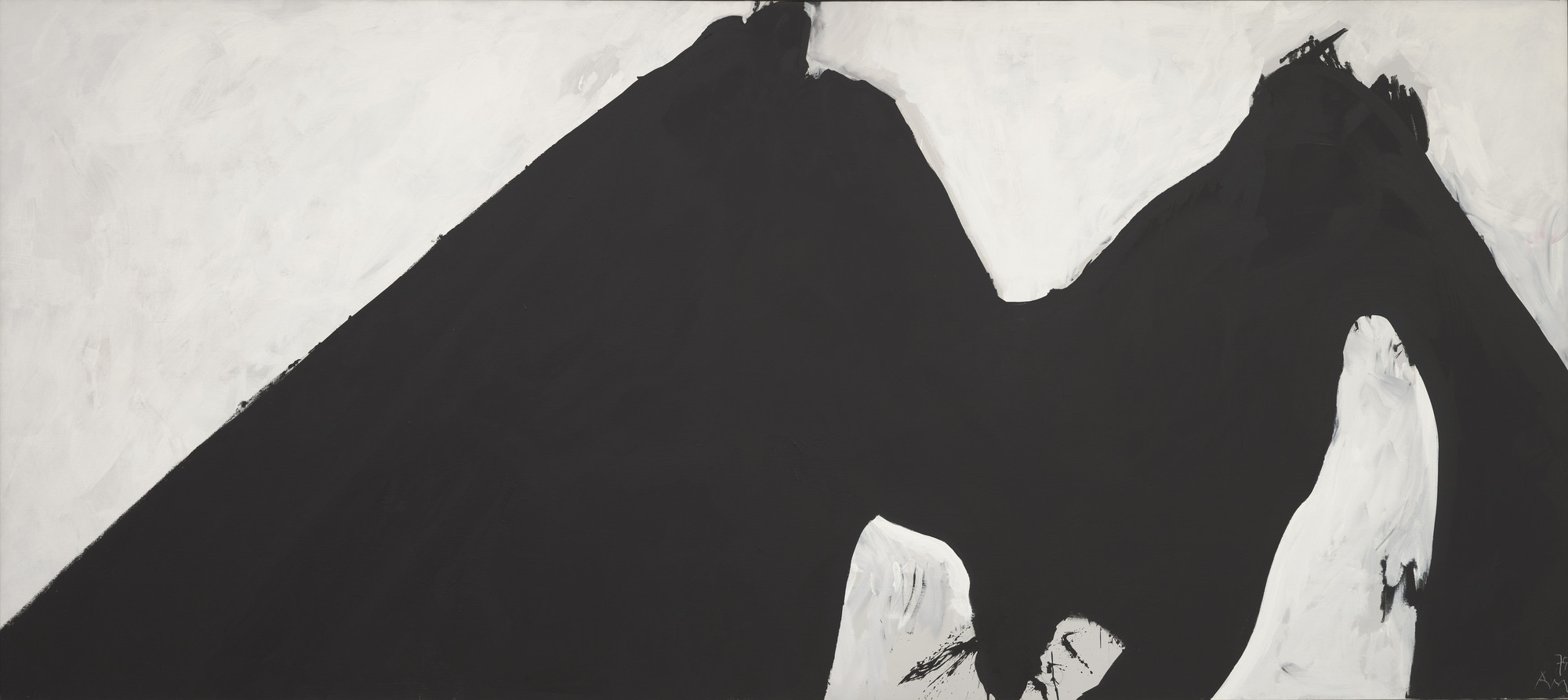 So here at the end of the year/beginning of the year, we find ourselves thinking about what matters most/what matters least.  Through all the buzz, all the fear, all the lunacy, all the loss, what starts to matter more and more to some of us is that humans are also very well equipped to make something BEAUTIFUL and never before seen. Hold that thought. And take a look up there, that, made by Robert Motherwell.  (it's now at the MOMA).
Who knows why, but the objects of eye-popping beauty-made-by-humans that rush to the front of the mind, for us at least, so often seem to be those made with the simplest palette of all: Black. White. Black + White. Look up, the amazing Mr Calder, his amazing THING, all BLACK set in a white, light filled room.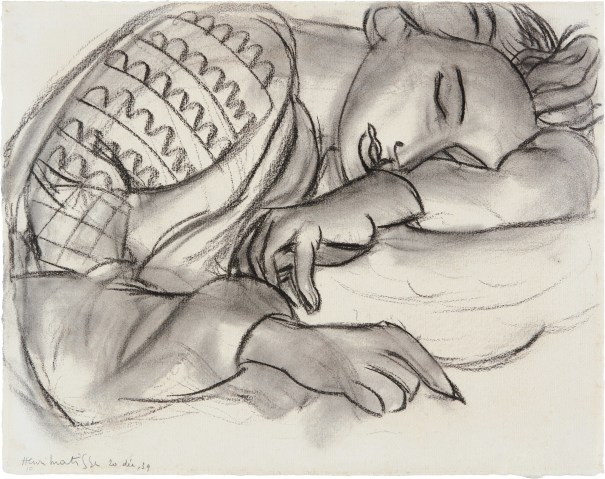 And then there is Henri Matisse, no slouch with colour, he was, but often, OFTEN, he put the reds and blues and acid greens to one side and made DRAWINGS–in charcoal, graphite, conte, ink,   No colour necessary.  None.  It's all there.
Oh good gravy, even simpler even more reduced and amplified.  Achingly beautiful.  H. Matisse, encore.
Not sure who she is, but Maria Likarz Strauss (1928 Vienna) is up to the challenge embracing colourlessness in the name of striking go-tell-someone-about-this-ness.
The pen + the ink for centuries the main way of conveying information from one hand and one mind to one pair of eyes.  We have other tools now,  but even so, the power and seductiveness of the inked line has no competitor.  Edward Gorey, Illustration for The Doubtful Guest. Garden City: Doubleday & Company Inc, 1957
Wassily Kandinsky made some of the most colourful pictures of the last 100 years, but he too sometimes paused, took a breath, and showed us the power of B+W, musical, explosive..
Keith Haring.  Young. Subway artist.  Gifted draftsman. Brief life.  Draped in black. And white.
We are not done with this dark/bright discussion.  But for now, a pause, the last word, for now, to A. Calder again. Giving us a wire "drawing".   Aquarium.  It's all there.
Summer has arrived in our part of the world–long days, heat on your back, first morning coffee on the front step, dinner out on the back deck–so let's talk about rain, lest we forget.  Where we live, no one complains when the sky suddenly turns bright and fills with sunlight, but being surprised by a splash of rain, caught unexpectedly, under-equipped, predictably brings a cry of "no fair!". This photo by Martin Parr from Bad Weather.
When it rains on your parade, some of us handle it better than others.
The music may have stopped, but the beer is just as tasty and mud between the toes can be quite lovely.. sometimes.
The flowers are still lovely too, and these two know that although the rain may keep some customers away, in the big picture, it's fundamental to life, isn't it luv?  Eau de vie as they say.
If flower sellers and festival goers tolerate rain, some photographers seem to absolutely adore it–a gift from the sky every bit as precious as light.
This Rui Palha photo above is an ode to geometry and rainfall.
Beautiful image by Z D Wagner depends for much of its eloquence on the presence of rain (and wind)
New Yorkers, of course, find ways to not just persevere in the rain, but to make something memorable of it, such as this wet-footed pas de deux.
And if you are James Dean, a rainy day gives you another part to play, another iconic image you'll leave behind.
On the other hand…
Unexpected rain isn't just a photo op, is it?
Some of us caught in it will face nasty and possibly dangerous conditions.
Flood is more than an inconvenience.  It can bring daily life to a stand still. Immobilized. The very water that gives life to us all can take it away.  Without much warning.
We are the water planet in a thousand different ways.  Try as we might, we cannot (yet) control when or how much water will fall from the sky.  What we can control is how we react to rain.  If the warnings go out to take cover, then by all means run for shelter and batten down the hatches.  But otherwise, look up, be grateful, we are born water babies.
Joie de vivre/eau de vie caught by Elliot Erwitt, Paris.  Salut!
There is a lot to say, we think, about the value and attraction (and sometimes strangeness) of smaller things.  It seems only right to dish out the goods in portions.  Welcome to sm2.
In 1952, the Dutch launched a good-hearted campaign challenging the notion that bigger must be better by building something grand on a very very small scale.  Madurodam in the Hague is a mini-representation of Holland as a whole that can be wandered through in half a day.
Houses, public buildings, canals, canal boats, railways, airport…tiny tulips and cheeses. The effect on the Dutch and the zillions of visitors seems to be calming, amusing, reassuring.  So cute.
The idea has spread. There are now "miniature towns" all over the place–many in the UK, many in Asia, maybe one down the road from you. Their success says something about what appeals to us, almost all of us, for escape and amusement.
But how about the real spaces we need to live in and work in.  How small is just right?  Well we live at a moment when smallness is all the rage in houses.  You've seen the pictures, you've found yourself cooing "ahhh, look at that!".  Here's a few we found at our fingertips:
Aren't they adorable?  We are as smitten as anyone by these diminutive domestic dwellings, but being of the wondering kind, we wonder if this craze might just be an economic necessity wrapped in a personal preference, dusted with big dollop of copy-catism, and bound together with quite a large dash of moral superiority.
But hey, it is also entirely possible that these are, in fact, just what we all need
But but…OK just one more, inside and out, from Brazil, all white.
Our local art gallery is currently presenting a show called "cabin fever" running all summer if you are in the area.
Images of these houses rarely show any people in them so it is hard to gauge how effectively they serve the real needs of actual living and working.  But there is strong evidence to show that great things can be achieved in modest surroundings.
E.B. White (the New Yorker, Charlotte's Web, The Elements of Style, etc etc) hammered out some of the most graceful, beautifully realized sentences in any language on a bench in a tiny cabin with a view of salt water.  The spare, plain, durable qualities of the cabin and everything in it perfectly match the products of Mr White's mind and fingers.
Producing great work, it seems does not (always) require a lot of space.
Joan Miro at work, no bench, no table, no window, no ocean, no net.  Art needs only the artist.
So maybe we can live smaller, a lot smaller, without giving up the dream of doing great things. ……………………………………………………………………………………………………………….
Adorable small houses designed by:
bornstein lyckefors architecture
As everything around us seems to be getting bigger, we are feeling the pinch and reminded of the inherent virtues of smallness.  Doing more with less continues to be a powerful idea–and an admirable choice for those who can well afford to have more.  Artists from far and wide and then and now have shown us, over and over, the magic of small productions.
Alexander Calder, best known for very large sculptures in front of very large buildings in very large cities, never lost sight of the special charm of small work you could hold in your hand intended for a small audience.
This set was made by Mr Calder as a gift for a friend.
Glass is a perfect medium for making hold-n-your-hand-sized sculpture.
These little creatures made of glass are on display in a gin joint in Amsterdam.
The glass menagerie below was dreamed up by Kiki Smith and the critters were made by Venetian Pino Signoretto.  It is at home at the Corning Museum of Glass in NY.  
But this devotion to smallness is not an invention of our time. We humans–all over the world– from our earliest days have dedicated time and talent to making small versions of ourselves.
Each just a few inches tall (the wall behind them is made of standard sized bricks), these ancient little men are captivating to modern eyes.  Conceived long before the electric light or glass shelving, they are now at home in a Danish museum.  Meanwhile, in Canada, visitors to the Montreal Museum of Fine Arts can have their mood swiftly elevated by the little man below.
Small scale also works wonderfully for two dimensional art.  In 16th century England, the Kings, Princes, and their pals, who could afford just about anything, any size, found they had a deep attraction to the smallest of paintings–miniature portraits.
That's the eighth king named Henry, no Tiny Tim he, and a woman fittingly named Jane Small.  North Americans in the 18th century took to the same notion, not just Kings and their social circle this time, but plain proud people wanting a keepsake. This is Lottie Hills aged 15 painted by Rufus Porter, "inventor".
Stamps!  Engravers, mostly anonymously, spend their working lives and eyes to give us this to put on our envelopes for delivery near and far.  From the 20th century, however, the artists were more frequently acknowledged.
These three above were all issued in 1978 by Monaco to celebrate Conte de Perrault who collected and published versions of these famous 'children's stories.  Artists top to bottom are Eugène Lacaque. Jacky Larrivière. and Claude Jumelet depicting tiny boy Tom Thumb.  Stunning images found here.
Wow, this love song to small is getting more than a little long.  Out of respect for the theme, we'll stop here for now and pick it again after a small break.
When you first come across a painting that turns out not to be a painting, but rather an arrangement of pieces of fabric sewn together, you might feel tricked.  But never mind how it's done, your eyes are right: it's got everything a painting should have, except paint.
Canada is not known for boasting, but there's no getting around the fact that it boasts one of today's finest practitioners of the stitched fabric picture.  Her name is Colleen Heslin.  Two Images above and four below from her website and that of Monte Clarke Gallery in Vancouver.
You can't help but think there is a connection between what Ms Heslin is doing and what tailors and seamstresses and emergency room doctors attending to flesh wounds do on a daily basis.  But whatever the connection, you won't be able to hold it in your head very long once you see these pictures live and up close.  There's only room for swooning.
Ms Heslin is one of a kind, through and through.  Still, curiosity got the better of us and a little searching revealed that a few other contemporary artists have put down the brush and taken up the needle.  One is from Denmark and he is Sergej Jensen.
You can find out more about him from this report on a show in Denver 
And to see these and more images in context, just put Mr Jensen's name into mother google's magic window.
People bent on explaining Art are trying their polysyllabic damnedest to claim this stuff for themselves by naming it, for example here. But we'll have none of that.  Let your eyes do all the work, see where they take you.
We landed here, and our last word on the subject is boro.  Apparently Japanese patchwork from quite a while ago.  Crazy boro.