You are currently browsing the category archive for the 'light' category.
Sometimes the best discoveries don't require meticulous planning, a long journey, or special shoes. Sometimes you just have to see what's in front of you.
This is some of what Belgian photographer Harry Gruyaert has been seeing and recording for the rest of us over the last 40 years.
He is credited with helping to prove the point that European photographs could be in colour and still be taken seriously. Not that there is anything wrong with black and white.
Mr Gruyaert claims that he doesn't think much about all this, and he avoids talking about it if at all possible.
The British Journal of Photography did manage to get a few words out of him, which can be read here
All images © 2015 Harry Gruyaert / Magnum Photos
Two dimensional, monochromatic, and featureless, shadows only exist because something else exists.  They are totally dependent on it, the mothership,  the object that CASTS them.  Yet, to us, they often seem to be something, if not separate, then singular, a unique offshoot.  Photo by David Taylor seen here.                                                             
At certain angles of the light, in fact, the shadows outsize the source and take on a character and life of their own.  Above photo by  Alexey Bednij found at feeldesain
What is more ordinary anywhere than a chorus of pigeons on a wire except when they are  accompanied by a slightly taller thinner blacker troop brought to them by light, just light.
Great photographers recognize the challenge and the opportunity of strong light and the spreading black alter-ego it conjures up for each of us.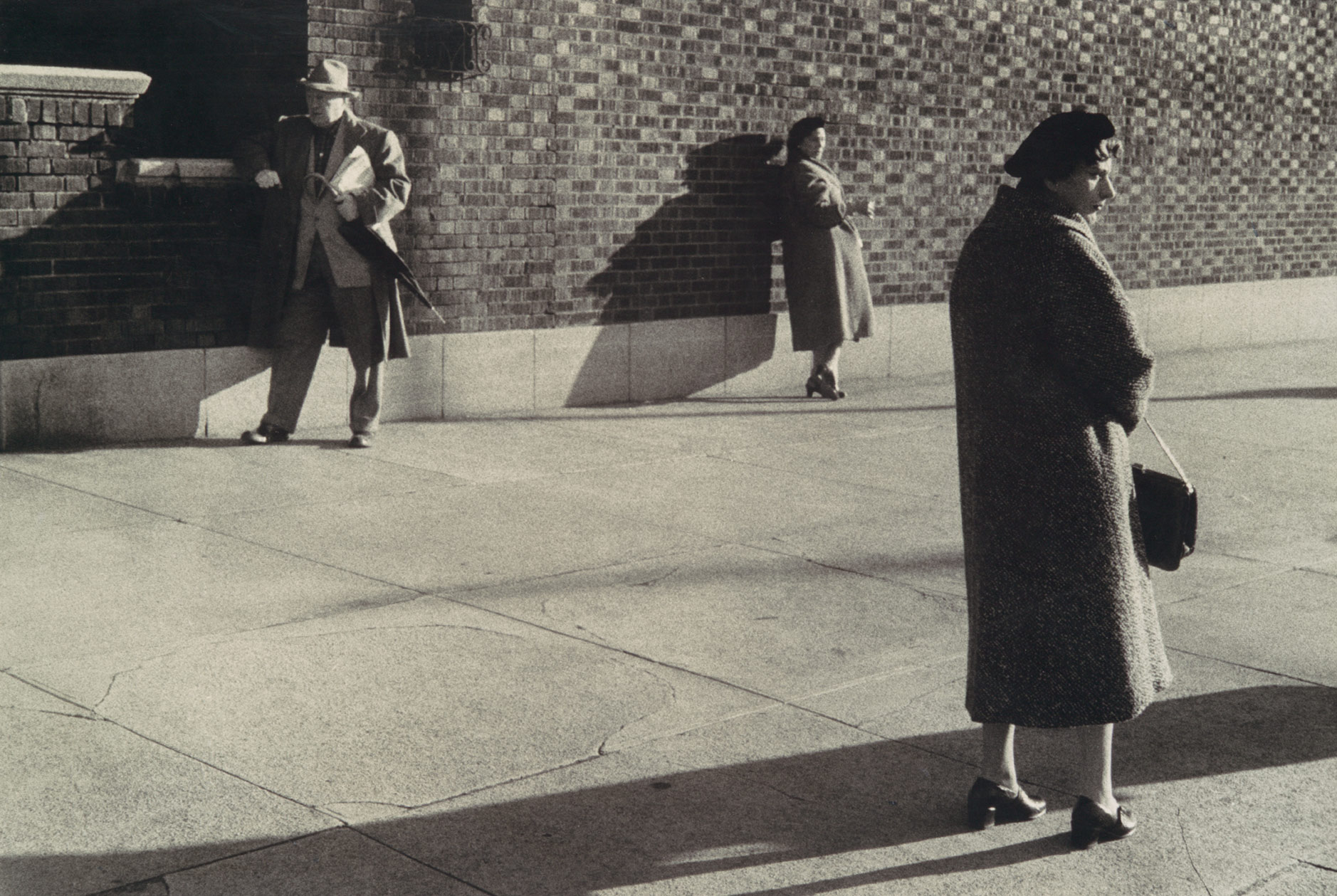 This trio caught in the low-angled light by Garry Winogrand 1960 now at home at the Metropolitan Museum of Art in New York.
Henri Cartier Bresson, who else?  (Source)
Vivian Maier went about developing as a great photographer totally out of the spotlight, sometimes literally in the shadows. Her self portraits are both bravely revealing and consciously concealing.
Vivian Maier,self Portrait, 1955.  This and many, many more of her remarkable photographs on view at this site
Though never shy, Pablo Picasso was always game for a visual trick: here he give us two picassos, one that he made with paint, the other a created by the great man in collaboration with the sun.  photo by David Douglas Duncan 1960
Here the shadow of Henry Moore dwarfs his usually monumental work.    by Andre Kertesz  Here   
Beckett, monumental in life and in reputation.  Rarely in the shadows
But let's not forget the wonderful FUN we can have with shadows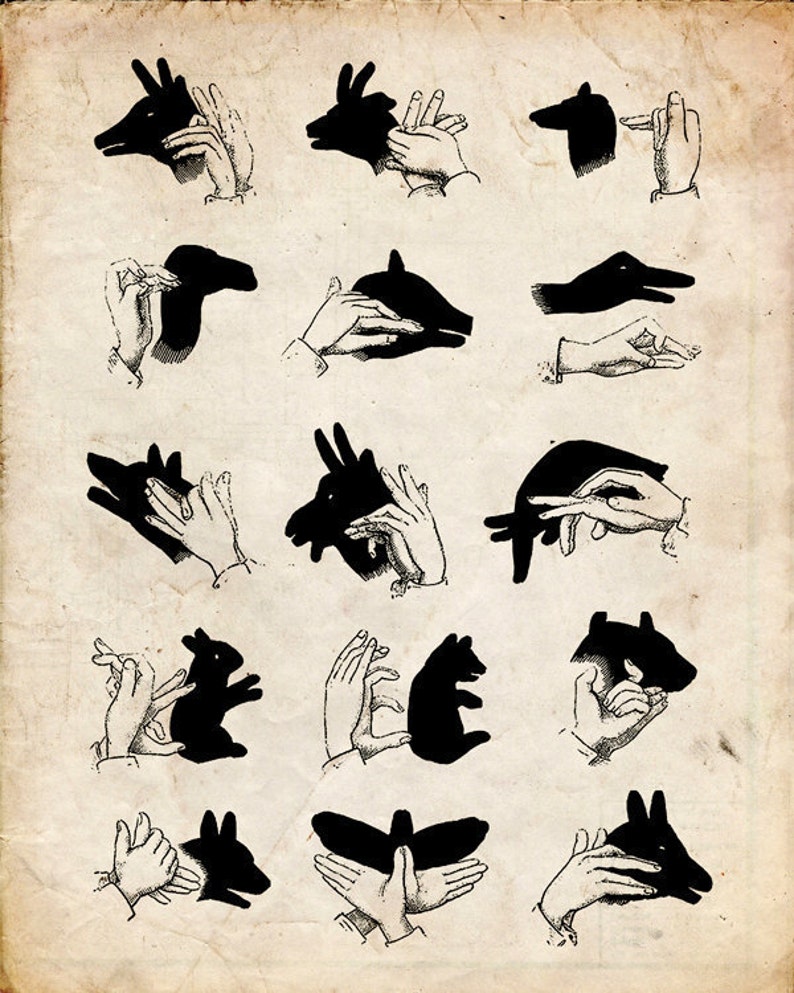 Personally, we never mastered any of these, but you can try at home when no one's watching. Found here on etsy
We photographed these Indonesian shadow puppets at the Museum of Anthropology (MOA) a miracle temple of the fruits of civilization from around the world to be found at the University of British Columbia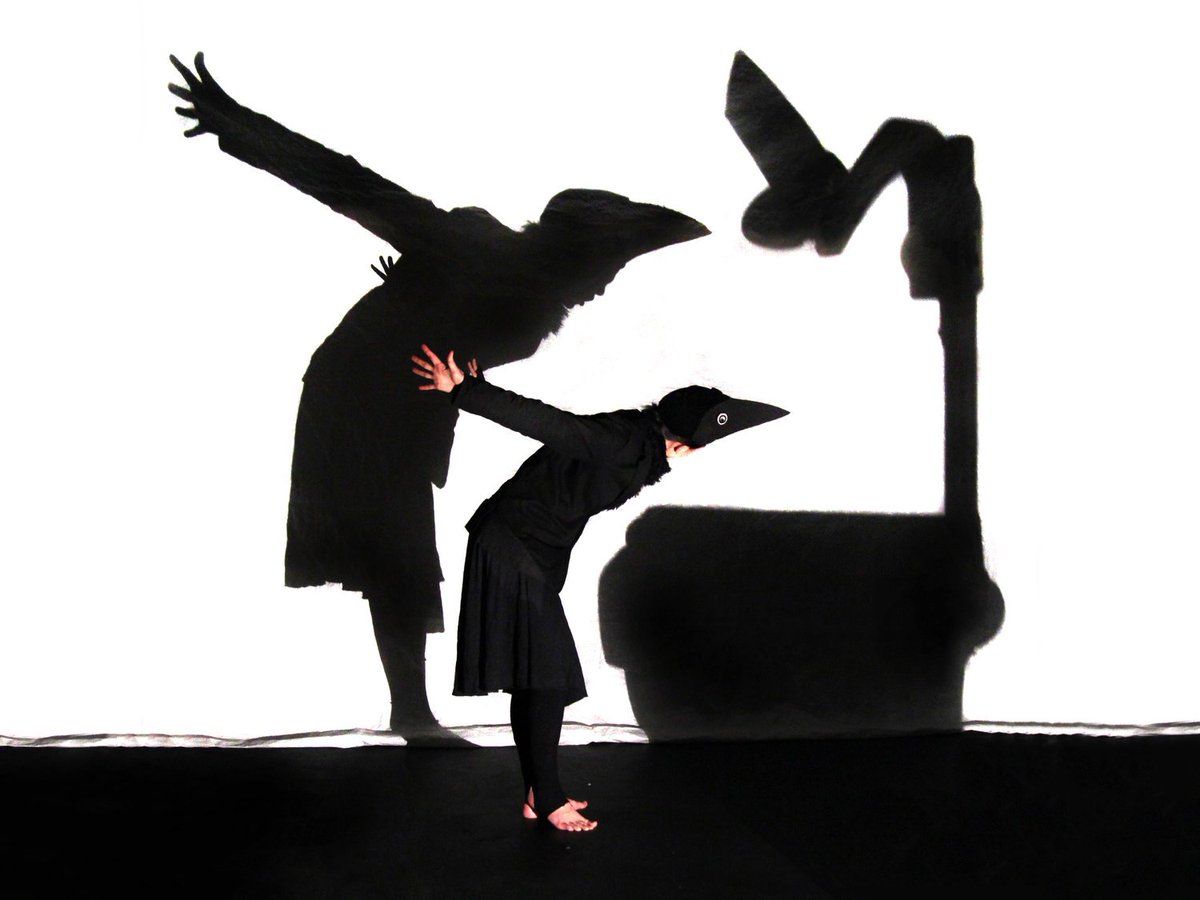 And to finish up–or start something–we present a wonderful puppeteering duo that goes by the name of  mind of a snail.  Much of what they do is done with projection of images. While they, the creators and performers, lurk in the shadows.  Mostly.  Always brand new and wondrous.  Find more here.   

Mr Jackson Pollock didn't like to repeat himself, and he went out of his way to choose materials you might find down in the basement (e.g. black and aluminum enamel paint, expanded steel, string, beads, coloured glass, pebbles, and window glass) as opposed to those made specifically for artists.
When he elected to make the above image on glass from these ingredients in October 1950 (painting No 29), he was doing something new (for him). Photo of No 29 from here.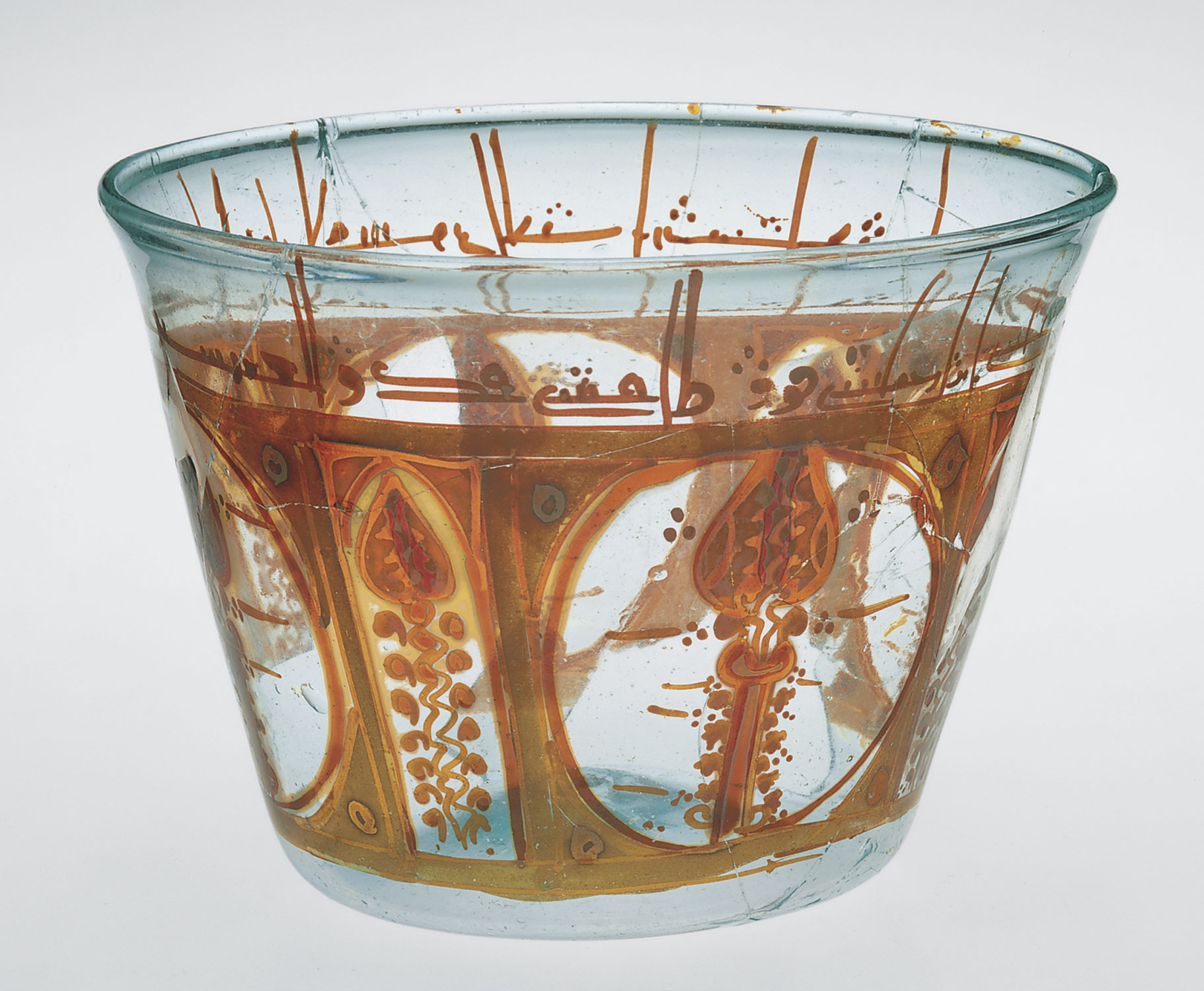 But painting on glass has a long and varied history among humans.
As Mr Pollack may have known, people have been making marks on glass for as long as there has been glass.   That would go back more than 5000 years, we're told.
This bowl at Yale University is about 2000 years old, and it is part of a tradition that has found a place in cultures everywhere and in every time period.
The above group was brought together for an auction .
The practice and tradition of paint on glass gained a new and lasting place in the stained glass windows found in thousands of surviving churches in Europe.  One of the most beloved for its painted glass is Sainte-Chapelle in Paris, designed and built over 700 years ago.
Fast forward to the 20th century, artists active when Pollack boldly made "no 29" were still being enlisted to apply paint to glass in the name of worship and redemption. Above by Marc Chagall for Fraumünster church in Zurich.
M Chagall then brought his painting-on-glass gifts to the middle of America, to Chicago. These are resident at the Chicago Art Institute, a palace for art worshipers whose devotion is surely as deep as those showing up Sunday's at Fraumuster in Switzerland.
But back to Mr Pollock, an artist through and through, bent on expression of his own angels and demons, not anyone else's. Artists who came after and followed their own path, devoutly, were ready for any medium.  Some found glass.  Who?
Well, Gerhard Richter for one.
Here he is painting on the back of glass–as commercial sign painters did for most of the 20th century.
And again.. And when the church makers came calling, he delivered this:
Nice. Cathedral in Cologne/Koln
Below is the work of Brian Clarke.
This British artist works almost exclusively in glass.  Is this painting is it sculpture? Does it matter?
And what's this?
A piece of art in glass bottles, arranged by Jean shin. Wow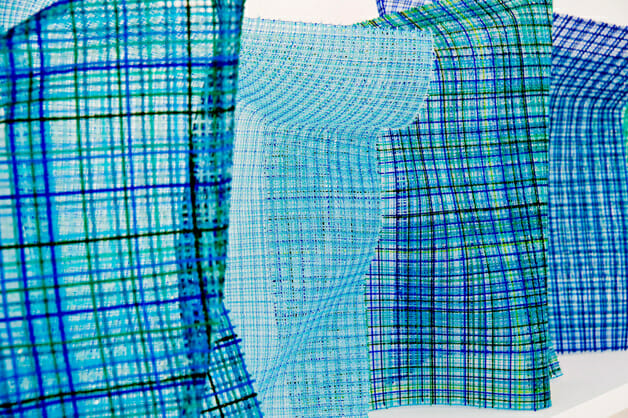 Glass again, our time, fluid and sharp and versatile, and …something, something swell,  by Cathryn Shilling
Oh, we just remembered: sometimes artists paint on glass and then place paper on top of the image and by pressing down the make a print a unique print a monoprint/monotype.  Artist + Glass, plus paper = unique result, so sweet.  Here was a great exhibition of monotypes.
Well we could to on and on.  Actually we did.
But there is more….
Maybe next time.
See you next time.
Look, up in the sky…
Look, there's people.  Up in the sky.  Walking around and round inside a coloured ring
Don't worry, it is only–ONLY!–a work of art from Olafur Eliasson, this time in Denmark where where was born, this time in the city of Aarhus.  It is called Your Rainbow Panorama.
This is the same artist who put a waterfall under the Brooklyn Bridge
And managed to get another one to fall out of the sky at Versaiiles
So maybe creating a rainbow you can walk inside on top of an art museum wasn't such a stretch for him.  But he seems all alone (to us, anyway) in his capacity to astonish so many people from all over the place, time after time, with 'public works'–open, visible, engaging to anyone.  Water, light, colour, always unexpected, always accepted.
Will we ever see another like him?  Is that even worth thinking about?
Above Moments from a Timeless Garden, water fountains, made to freeze in mid splash.
Truth is, maybe, some things only come along once.  So get used to it and make sure you don't miss any part of it.  Wherever you go next, Mr O, we'll be watching.
With thanks.
White light has something that coloured light doesn't.  For one thing, it contains all the other colours, as some of us remember from science class.  It's the mother light, it's got it all.  The trio above are maybe thinking about this as they hang out near a wonderful piece by artist Doug Wheeler found here.
It was learning about Mr Wheeler's work (for above, go here) that got us looking at white light and wondering about it. We're none the wiser, really, but it sure feels good–and not just on the eyes.
Doug Wheeler has been conjuring up moving encounters with white light all over the place for about 40 years. He had a solo show in New York in January/February 2012, and the lovely thing above is showing in France this summer and beyond, it says here.
Artist Robert Irwin has also been busy for years and years exploring the wonders of white light. Above (seen here) is a recent installation of a 1971 work now called slant/light/volume. Another view below, found at the site of the Walker Gallery–for whose opening back then the piece was originally commissioned–shows the scale of it.
And the above view, from the Walker as well, shows the work alone at last beaming like a slice of the moon.
James Turrell seems to have become the best known American artist working with light his primary medium.  While he has not limited himself to white light (he does things with blue that will make you forget who you are and why it mattered), when he does take on the mother light, he does a nice job.  Of course.
Top Turrell piece is called ALTA, find it here.  Lower is Afrum, presented recently in a group light show at Museum of Contemporary Art San Diego and picked up here.
It's time to back slowly away from the white light before you find you can't.  Let's retreat in stages, by way of three more doses of Doug Wheeler's light work.  All of these are found at the David Zwirner gallery.
Pssst–time to go now.  You can come back.  Meanwhile, there's always the moon.