You are currently browsing the category archive for the 'drawing' category.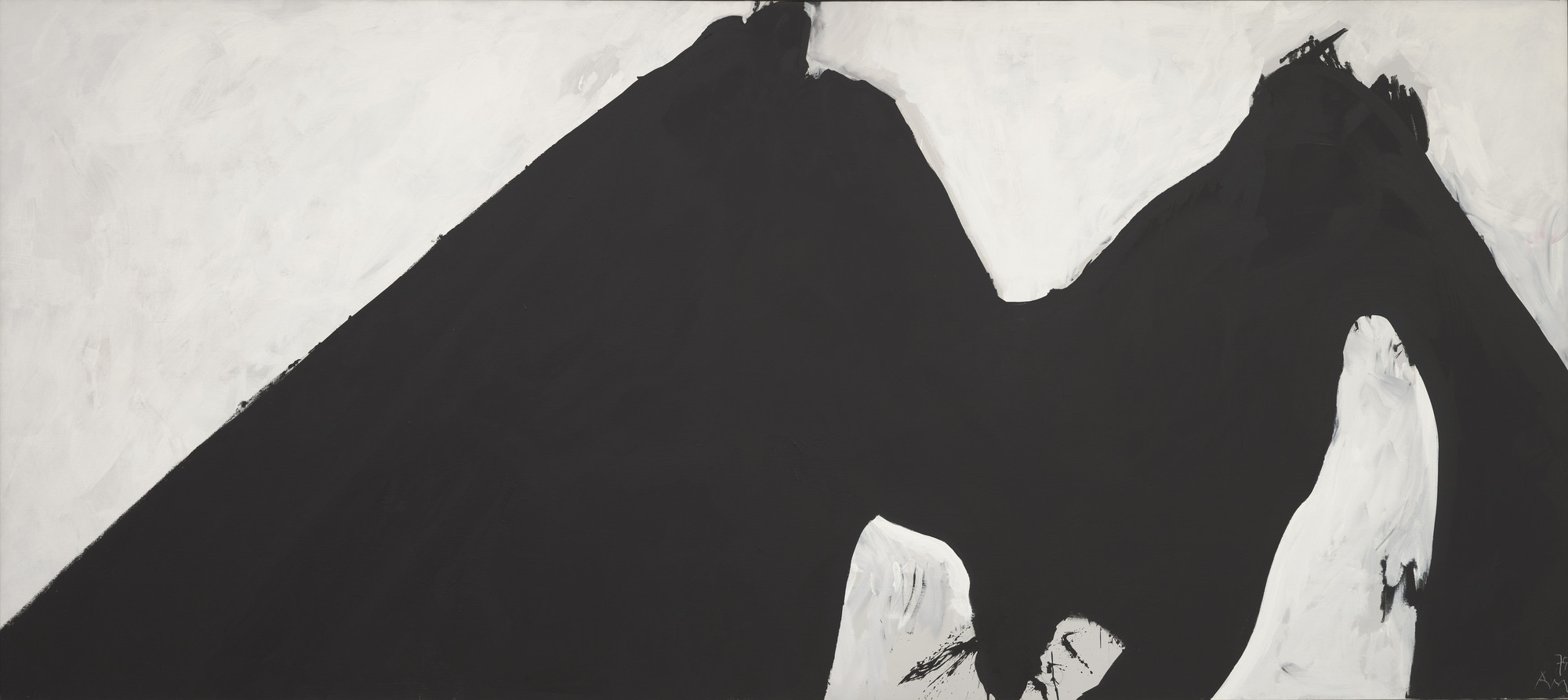 So here at the end of the year/beginning of the year, we find ourselves thinking about what matters most/what matters least.  Through all the buzz, all the fear, all the lunacy, all the loss, what starts to matter more and more to some of us is that humans are also very well equipped to make something BEAUTIFUL and never before seen. Hold that thought. And take a look up there, that, made by Robert Motherwell.  (it's now at the MOMA).
Who knows why, but the objects of eye-popping beauty-made-by-humans that rush to the front of the mind, for us at least, so often seem to be those made with the simplest palette of all: Black. White. Black + White. Look up, the amazing Mr Calder, his amazing THING, all BLACK set in a white, light filled room.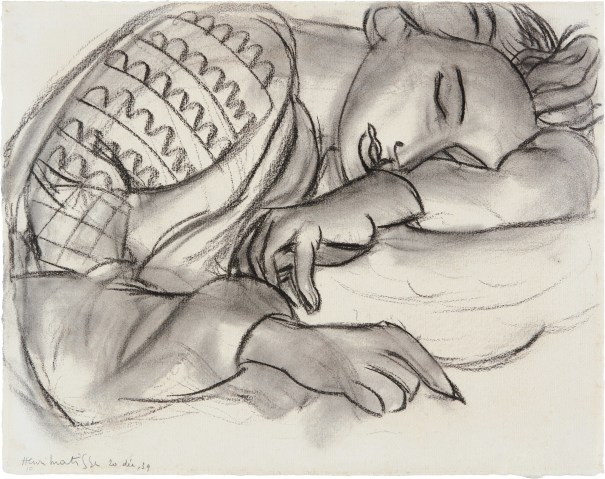 And then there is Henri Matisse, no slouch with colour, he was, but often, OFTEN, he put the reds and blues and acid greens to one side and made DRAWINGS–in charcoal, graphite, conte, ink,   No colour necessary.  None.  It's all there.
Oh good gravy, even simpler even more reduced and amplified.  Achingly beautiful.  H. Matisse, encore.
Not sure who she is, but Maria Likarz Strauss (1928 Vienna) is up to the challenge embracing colourlessness in the name of striking go-tell-someone-about-this-ness.
The pen + the ink for centuries the main way of conveying information from one hand and one mind to one pair of eyes.  We have other tools now,  but even so, the power and seductiveness of the inked line has no competitor.  Artists everywhere know this.  Paul Klee knew it.  Intimately.    Thankfully
The 'white' of Mr Klee's drawing has drifted in the direction of sand or warm chocolate milk, as opposed to say snow or salt.  We approve.  Found here.
O
Wassily Kandinsky made some of the most colourful pictures of the last 100 years, but he too sometimes paused, took a breath, and showed us the power of B+W, musical, explosive..
Keith Haring.  Young. Subway artist.  Gifted draftsman. Brief life.  Draped in black. And white.
We are not done with this dark/bright discussion.  But for now, a pause, the last word, for now, to A. Calder again. Giving us a wire "drawing".   Aquarium.  It's all there.
Originally posted in January 2019
The art of the line is ancient. It is often instant and permanent. It is seductive. It is everywhere. It is drawings, it is maps, it is documents, it is cartoons, it is a record of our heartbeat, of our brain activity, of earthquakes. It is tattoos. At its sharpest, and at its best, we think, it is ink and pen..
This extraordinary drawing in pen and ink was made by a scientist trying to understand the complexity of the brain. Spanish neuroanatomist Santiago Ramón y Cajal (1852-1934) left more than 2900 drawings mostly of brain cells mostly in pen and ink of what he saw through his microscope. The process of drawing what he saw through the lens led to new theories about how the cells of the brain worked. He earned a Nobel prize. His theories have held up well under he scrutiny of much more complex instruments developed in the last 85 years.
1904 drawing by Santiago Ramón y Cajal of cells in the cerebral cortex of a child. New York Times Article has this and more
PENS, Real Pens >>Dip Pens
Just a few of the metal pen nibs available today. These found at Pendamonium
If you want to make impressive lines in pen and ink sometime this week, you have two good choices– pens with nibs that are dipped ink (dip pens) and fountain pens that carry their ink inside. This is somewhat equivalent to an acoustic guitar versus a synthesizer for making music, and beautiful though they often are (we have a few), we will leave fountain pens for another time. (As for ballpoints and felt tips, we will leave them alone entirely. Iif you are a genius you might make something agreeable and lasting with them, but for the rest of us, these are best reserved for jotting down grocery lists or "notes to self", etc.)
Metal nibs have been manufactured on a commercial scale in a wonderful variety of styles for at least 200 years. Once you have one or two, find yourself just the right holder (consider weight /shape /material, as if you were selecting a tennis racquet or pool cue) to hold the nib securely and a bottle of ink, most often brown or black. Those of us who care about the quality of the lines we produce in pictures or prose will at some point find themselves in possession of nibs, many nibs, several comfortable holders, and a bottle or two of real ink.
Making your mark. It's quite addictive. A nice presentation can be found here
And if you spill some ink, it often makes its own magic.
Whatever your pen, whatever your ink, whatever your goal, this combination of sharp instrument and strong dark fluid will serve you like no other combination.
For a very long time these simple materials and methods were all that was available.
Now there are dozens (hundreds!) of possibilities for making words and images visible to each other. Yet many artists in our time still rely on pen and ink to make their mark. One artist working right here in the 21st century has been drawing maps. Of cities. With pen(s) and ink.
This is a hand-drawn ink map of a section of Inverness Scotland, 6 and a half feet wide, completed by artist Carl Lavia and photographer Lorna Le Bredonchel found here Their goal is to render 68 cities in the UK in this meticulous beautiful fashion. You have to admire not only the outcome but the determination and effort.
OK back to work. If you want to make the most out of your dip pens and your collection of metal nibs, you will need to do some thinking about INK, about Drawing inks.
Fortunately, as with the nibs themselves, we still have available INKS that are essentially the same as what were used by artists and scribes an calligraphers of the past.  The packaging has changed a little as have a few ingredients, but their quality and qualities remain high.  Some will make marks that will outlast their makers. These and more to be found at My Modern Met.
We'd like to finish this exploration/lovesong about Pen and Ink with the reason we started it in the first place: our deep and lasting love for the images generated in this medium by a few of our favourite pen-and-ink artists.
Arthur Rackham R Crumb
We hope some of those above are already familiar to you. If so, treat yourself to a reunion with one or two. And if some are new and unknown, do check them out. Making so much happen with simple lines is, we think, one of the miracles of our species. Here are some links to those above to get you hooked.
JJ Sempe Ronald Searle Aubrey Beardsley Len Norris Len Norris_2 Arthur Rackham R Crumb
The final line, rightly so, to Mr Steinberg,
Maybe I'm not using the right pen….

Pieter Bruegel, Flemish, born almost 500 years ago, was a miracle of a painter who gave us images we can still understand and delight in without a thick book or an expert.

Most of his pictures have their origin in the Christian Bible, but if you never saw a Bible in your life you would see and feel the humanity of what is staring you in the eye.
And you would see the children, somewhere in the frame.
You need to look, sometimes, for the children.  But they are almost always there, busy, preoccupied, stocky/stubby, lovely.

This is a detail of the Census of Bethlehem
Wherever you find them, these, Bruegel's children are identifiable as today's children, even if so much around them is bizarre.
Above, The Hunters in the Snow also known as The Return of the Hunters, is a 1565 oil-on-wood painting.
It is a quiet cold wonder in the palace of great art–thanks in part to those small boys and girls.

Twenty years ago or so, we came across a neat little book that told the story of a graphic icon: the funny little man, as the author (Virginia Smith) called him.  On the cover was a truly dapper Parisian gent created by AA Cassandre for Dubonnet, the aperitif made with fortified wine, herbs, and quinine.

As we recall it, the book (check it out here) tells the tale of how companies, mainly companies selling alcoholic beverages, mainly in Europe, mainly in the 1920's and '30's, often gave the job of promoting their product to a little guy.
You can find some lovely drawings by AAC here presenting the little guy doing all kinds of stuff.
It seems that Chaplin's Little Tramp had pretty much started the whole thing rolling.
The book has disappeared from our local bibliotheque (though still available, it seems, from the warrior woman), so we went looking on our own to find some colourful little guys hard at work

Ads for the Italian herbal aperitif Campari have used a weird little jester/devil of a man in a body stocking wrapped in an orange peel.   Nothing about Campari is ordinary.

The artist is Leonetto Cappiello, nice site in French here.
Cointreau has favoured Pierrot as their pint-sized sales guy graphically

and ceramically

If you, man or woman, drank aperitifs in European bars in the 1920's, chances are you lit up a cigar at some point. This little German guy was the guy to call.

But if you wanted music with your beverage, at home, you'd ring up Little Mr Disquehead  shown in this Dutch design for record players, disques, and radios.

Yes, you can say this is not a little man at all, but I don't think we should exclude the hard-working fella just because he is red and has a trunk.
For now, we'll say goodbye to the funny little guy by way of a little portrait of Mr Chaplin himself, apparently by himself, sketched on a cocktail napkin.  Salute.  Santé
Sometimes you spend time looking at children's books because there is a child in your life that you want to please, and sometimes you just want to please yourself.   Above is from an edition of the Wizard of Oz illustrated by Lizbeth Zwerther seen here.
Happily, books are alive and well in stores for kids, and  if  you go looking,  you will find in these little books the work of some of the most gifted and imaginative artists/illustrators/cartoonists from around the world. Above is from a recent book called ICE written and illustrated by Arthur Geisert who is very fond of little pigs, as are we. Read more here.
Above three books are just a sliver of Mr Geisert's shelf of wonderful work, which has plenty of pig tales, but plenty of pigless wonders  too.  See more here.
Once you start down this path you will find yourself with a lot more than you bargained for.  If you could only have one, how would you choose between a pig tale by Arthur G or a rabbit tale by Komako  Sakai?
Ms Sakai is certainly something special.  Her simple stories and beautiful way with line and colour will fill your eyes and pinch your heart.  She has worked in the textile industry in Japan, they say. More about her books here.
Bears of course have a solid place in children's stories too.   Thanks to Jon Klassen, there's a new bear on the block and he wants something.
Nice review of Mr Klassen's book in the NYT here
Along with creatures of the farm and the woods, book artists have found plenty of inspiration among the critters that become part of the household.
Like the wonderful Max brought to life by the wonderful Maira Kalman.  Go here
People who love picture books love them as much as other people love chocolate or ABBA–i.e. totally.  There are many wonderful websites with tons of these books to show you, including Children's Illustration, which you'll find and feast on here.
To send you off, we selected Paul Thurlby an artist from England who, among lots of other things, has made an amazing alphabet, which you'll find on his site here.  Books and pictures, sentences and pictures, letters and pictures, they all go together like summer and running through the sprinkler.
of