You are currently browsing the category archive for the 'design' category.
Here is a Sunday on the Island of La Grande Jatte (detail) (1884) for which we have Georges Seurat (b 1859) to thank.  And we do, as do lots of people these days, but it did take a while for those living in his own time to get over their surprise at this picture.  What's with the dots?
M Seurat took some science (of optics and colour), a lot of experience as a painter, and a bold leap into new possibilities, and then let his talent do the rest.
He believed that the eyes of a viewer of this painting would receive the dots/pointes of colour and generate a new, unified, visual experience.   Something very personal, something very special.
He was right.
Someone called it pointillism. These pictures received a lot of attention in his lifetime, both from those who were genuinely impressed and from those who seemed convinced he was trying to destroy something fundamental about painting.
To us, Seurat's paintings (and most of the best visual art since then) elevate our role as viewers. We play a central part in determining its impact, its value.  It is not a cookie to be chewed and swallowed, it is a recipe and a few key ingredients made available for us to make something for ourselves.  That process gives us something we didn't have before.
All the works of George Seurat are conveniently pictured here.
Today, the mystery is not so much how this works, the mystery is how this idea came to M Seurat in the first place?  Our (very amateur, fingertip, easily distracted) 'research' has led pretty much nowhere in terms of scholarly evidence on that point. We found no statement from the man himself–if it exists, it lies beyond our reach. So let's plunge in with a suggestion as to one possible source of inspiration that just might have played a part.  Maybe.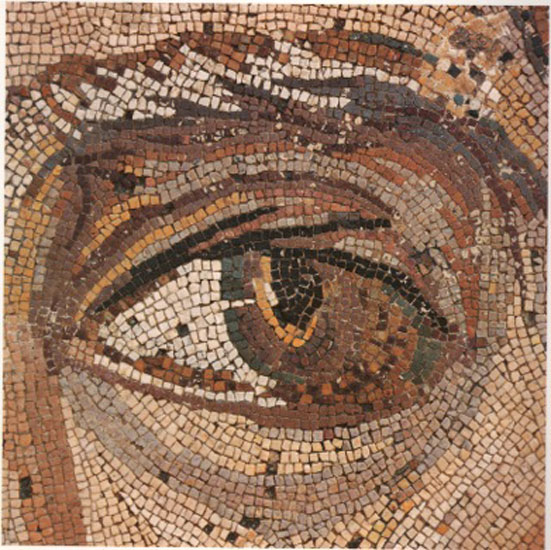 This Mosaic is from 'Ancient Greece', a 2000 year old survivor, almost intact, a portrait made entirely of small pieces of coloured stone.  The mosaic form of image making is present in the oldest cultures of Western Asia and Europe –Mesopotamia, Greek, Roman, Byzantine…M. Seurat may have encountered a relic or two, and it may have influenced his decision to paint pictures with dots of colour.  Just saying.
But even if he didn't, their existence and the undisputed reality of La Grande Jatte, so many years apart in different parts of the world, would seem to suggest: there is something fundamental in this desire among humans to making pictures out of pieces.  And for us to marvel at their effect on us.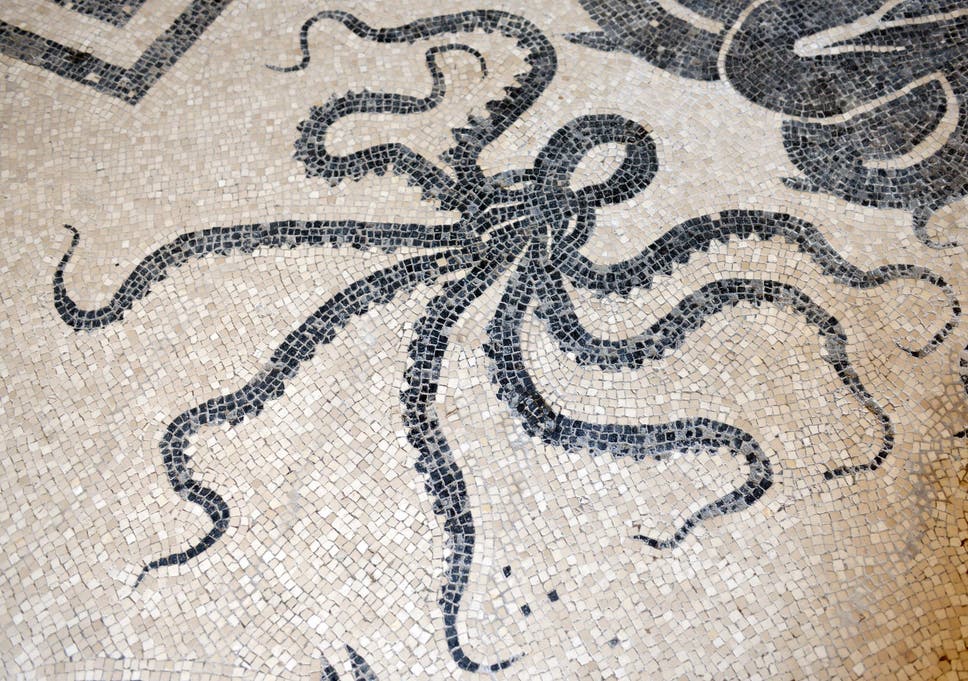 The history, longevity, variability, and sheer beauty of ancient mosaic images is truly stunning even in our age of a million digital images for many subjects (e.g. "About 136,000,000 results (0.60 seconds)" for "Images Lady Gaga", who we like too).  Both of the above from Pompeii. Destroyed/buried by ash from a volcano almost 2000 years ago, first excavated in 1600, then again and again into the 21st century… See and learn more from here and here.
Which brings us to Chuck Close, American Artist born 1940 in the State of Washington, USA
The above painting, in watercolour and pencil, is a portrait of "Keith" 1979.  Above that, a close up of some of  the squares, all of them about the same size, that make up the image.  From Reynolda House                        Credit Line Reproduction: © Chuck Close, courtesy The Pace Gallery. SEE HERE.
             Photograph by Al Mozell, courtesy Pace Gallery
Here is Mr Close's portrait of the composer Philip Glass--again 'hand painted', this time (it seems) the hand in direct contact with the paper.  As a relative of ancient mosaics, "Philip" seems to us less Greco/Roman and more Mesopotamian/Byzantine.  If you are following this homemade ragged string of thought we're weaving.
Mr Glass seems a perfect subject for Mr Close.  Both manage to produce Big Impact by means of intricately arranged small pieces.  Repeated but not identical.  Result often Hypnotic.
                              © Chuck Close
Agnes Martin, artist, painted by Chuck Close in 1998.  This MUCH more colourful phase of this singular painter's career was a surprise–not just for the colour, but because of its inventiveness and the fact that Mr Close by this time was mostly paralyzed from the waist down. The result boggles a lot of minds including ours.
So where are we now with this hop, skip ,and jump from Paris 1884 to Pompeii 79(AD) to Portraits1998….are these connected in a way that helps us understand anything better?  While we're thinking…….
Let's go back to where we started.  Paris.  On the ground.  What's going on?
Above is an astonishing image, no matter what.  The immediate appeal seems mostly from the shards of strong colour, each piece a bit different from any other, yet they can be grouped in families by hue and shape …  they are close to one another but still separate.  Is this something coming together or falling apart?  Whatever is going on, It somehow generates energy, vibration, vitality,  And more.
Before long, we were thinking about all kinds of things — pixels and mosaic and pointillism, about some artists we like, and well, lots of things, one after the other.  As you will see soon enough.  But before we leave the inspiration above, we must tell you what it is. You may not believe this.
The truth behind the opening image, if truth is the right word here, is this: the top half is a close-up of a portion of a painting executed in 1889 by Georges Seurat.  The lower half is an image photographed through a microscope of the skin of an octopus.  The story of how it came to be can be found here,  Other images are from here, here, and here
For us, this was an invitation, a provocation, a dare to explore the work of artists who compose images, objects, or spaces from spots, or blobs, or dots.  Next thing we knew we were spending a heart-thumping afternoon with the work of Yayoi Kusama.
This room of what seems like leopard skin spots is something called the Spirits of Pumpkins, found here. along with a recent message from Ms Kusama that is, as expected, all her own.
The photo above the room is the artist amid those Spirits, found here
Here she is signing a piece of her work, from a 2018 film directed by Heather Lenz, seen via the Museum of Fine Arts Houston website.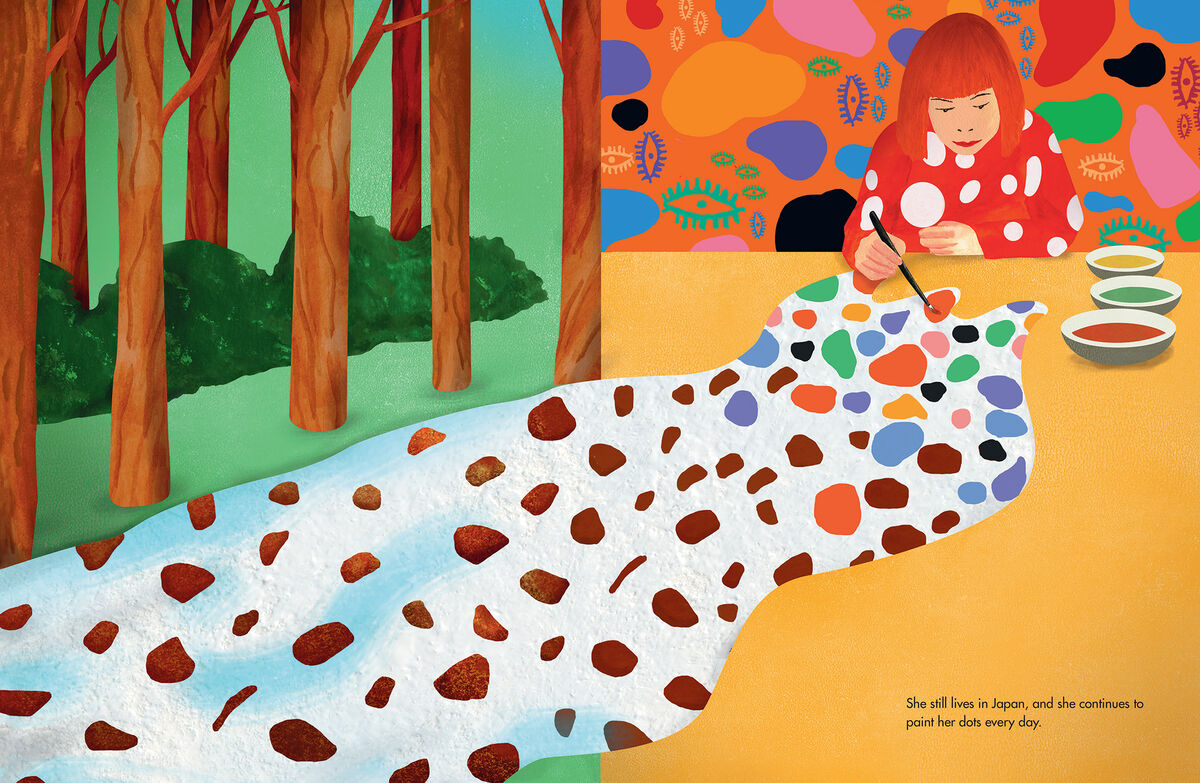 This incomparable artist from Japan, is still going strong at 91.  Those who like to talk about her art often call the exuberant explosion of small shapes in her work "polka dots".  We don't know how Ms Kusama feels about that, but to us, Polka Dots are the stuff of uncomplicated fun, ephemeral simple pleasure, perkiness–Minnie Mouse's dresses, for example. Yayoi Kusama's productions are certainly fun, but nothing about them is ephemeral, and no one would every find them mousey.  Perky?  well….maybe percolating or percussive or…
Anyway, we think they represent something of what she sees in the world, how it is built of little pieces as opposed to being a continuous fabric, whether inside the screen of a $2000 phone or a river bed or a Linden tree.  It's the same message we got from the Octopus/Seurat image that started this.
Who knows. But that idea/feeling does seem to be somewhere near the heart of her emergence as an artist as presented in a beautiful MOMA book "'for children" about YK titled From Here to Infinity written by Sarah Suzuki, a curator at The Museum of Modern Art, New York, with illustrations by Ellen Weinstein. Found here and in great bookstores everywhere.
As with most great artists, we find it doesn't pay to spend too much time on the ideas behind the work when there is so much to be gained by just looking.  So, whatever is going on here,  Wow.
That OctopuSeurat image did open a few other avenues that seem worth exploring, which we will offer up soon in I See Spots Two/Too.  Here is a taste of it.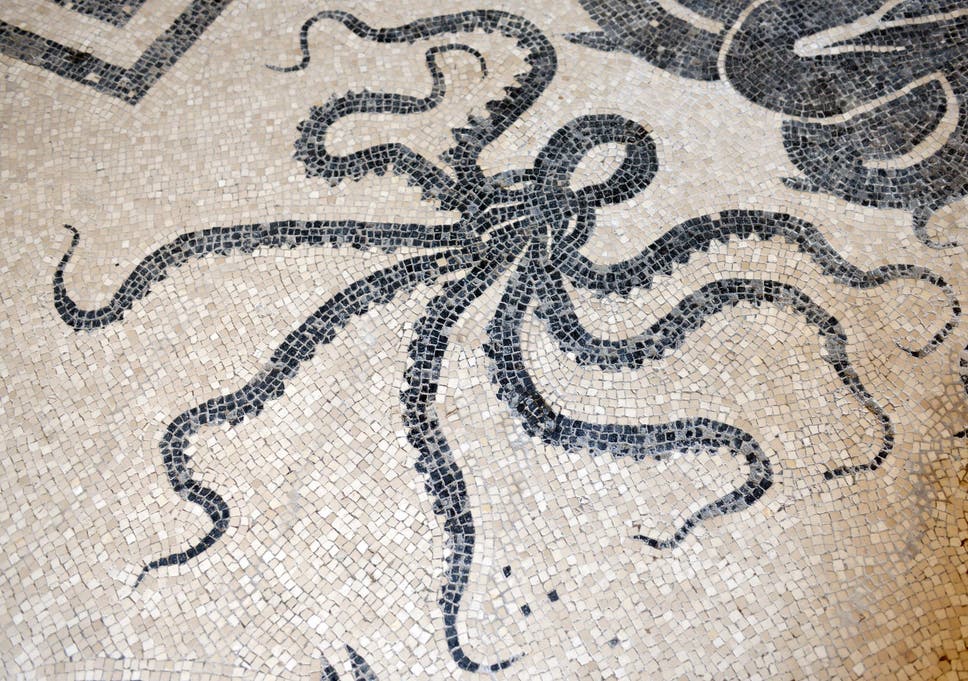 see you soon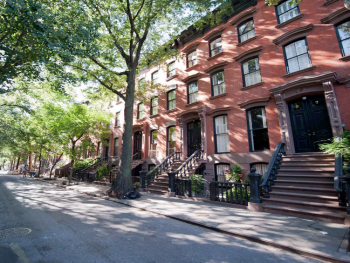 If you live on a street lined with tall leafy trees between you and the road, you probably either love them unconditionally, as we do, or wish they would be a bit tidier and keep their leaves (and birds and insects and moss and bark…) to themselves.  In either case, unless one falls down, most of us have little reason to think about how they got there in the first place.
That of course got us thinking, and while we are thinking, take a look at some streets in a few of the most desirable cities for human habitation we know of.  Above is New York.

This is Philadelphia, old Philadelphia,  as per William Penn's plan 1683. Photo Photo by Melissa Romero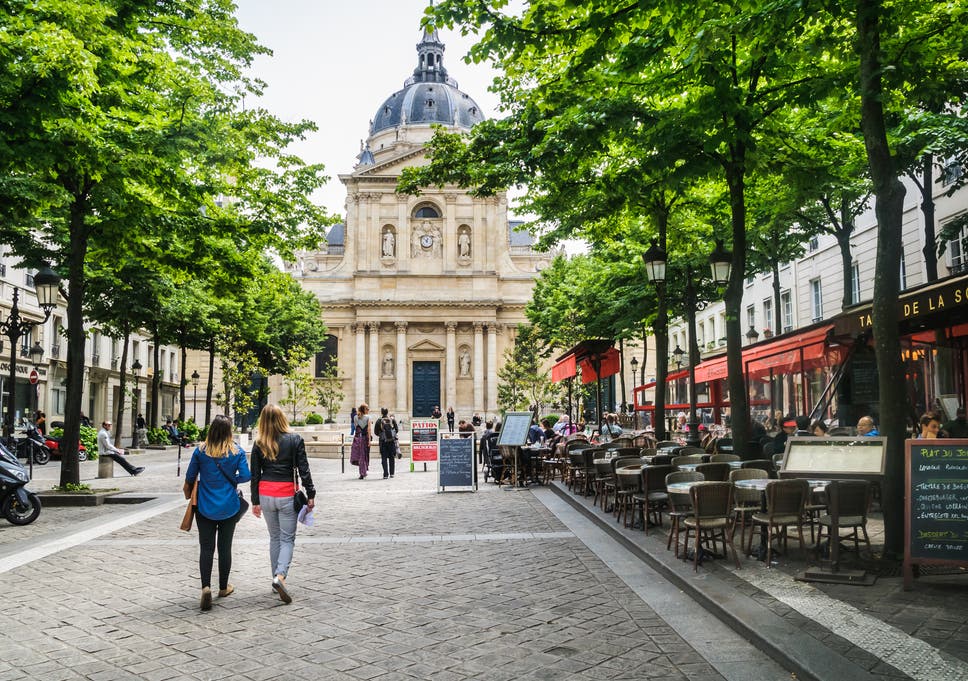 This is Paris, whose streets are as well dressed as its residents.
Rome.  Roman trees are muscular, sinewy, regal, slightly wild, imperfect.  Roman.

Vancouver.  Pretty.  Abundant.  Well cared for.  Well behaved (mostly). Photogenic.
So who decided this was a good thing? Who do we thank?  Who is responsible?  Today, our cities employ a small army of people from planners to planters whose job it is to maintain the trees we have and oversee the selection and placement new ones.  But the decision to include trees along our streets was made long before we got here,  by people we never met.
With our oldest greatest cities–Paris, London, Amsterdam, New York, Philadelphia, to name a handful–we can find visual records of the early ideas about trees and cities in the form of plans and maps.
Paris 1615. There are green strips and squares and triangles, trees we guess. But hard to tell what the streets are like.
Britain.  Scotland. Edinburgh.  Somewhere around in the 17th century we guess. Four fancy folk on a hill overlooking the plan for a treeful city in the countryside.
The idea seems to have taken hold.  This is Edinburgh now.
So it is an idea that goes back a way, at least 400 years.  And the idea generally seemed to be: when planning a city, make room for a bit of the country in the city–in squares, parks, along roads and canals, and ultimately on the streets where people live.  Apparently, it just seemed natural at the time, at least in Europe, Britain, and later North America.
Of course the basic notion may actually go back much further to Medieval times of castles and monastries and beyond.  But if we want to give credit to the origin of what we see today where we have trees on the street as well as in parks and squares, Holland could certainly make a good case.  This is Amsterdam 1670.  Found here
Happily, we found that lots of people have been thinking about this for quite a while, dedicated people with a lot more insight and knowledge than we've got.  If you are interested, a good place to start is with a blog innocently called Green Infrastructure
Also, you might want go check out your own city, the history of your trees and who is in charge now.  It's something worth knowing because it may need some help to keep it going.  see here
The benefits of street trees, besides the sheer pleasure of laying our eyes on them, are many and varied: shade, substantial energy savings, cleansing city air of particulates, stabilizing the ground, flood mitigation, swingin' on a tire?….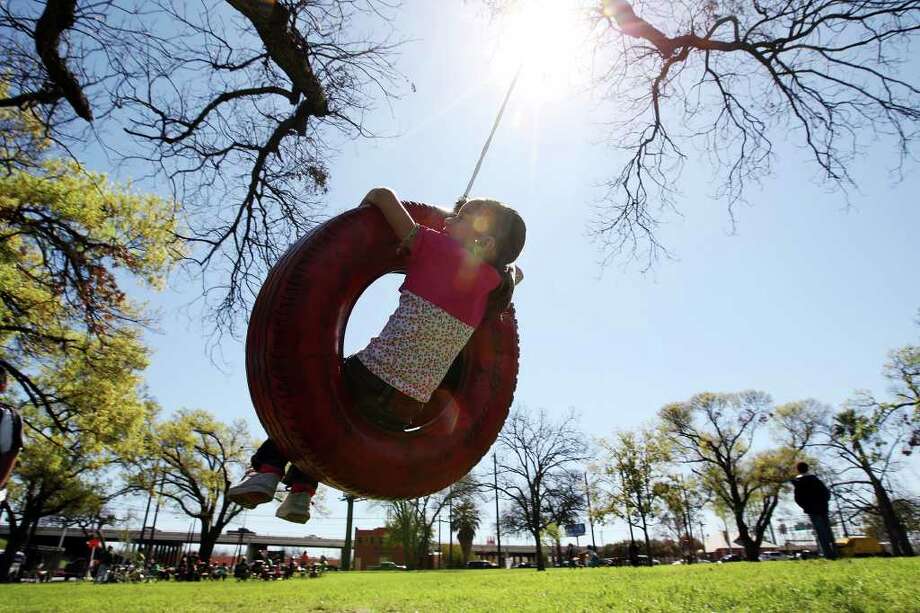 Happy citizen of San Antonio Texas–a tree, a rope, an old tire, and thou.  From here
As everything around us seems to be getting bigger, we are feeling the pinch and reminded of the inherent virtues of smallness.  Doing more with less continues to be a powerful idea–and an admirable choice for those who can well afford to have more.  Artists from far and wide and then and now have shown us, over and over, the magic of small productions.
Alexander Calder, best known for very large sculptures in front of very large buildings in very large cities, never lost sight of the special charm of small work you could hold in your hand intended for a small audience.
This set was made by Mr Calder as a gift for a friend.
Glass is a perfect medium for making hold-n-your-hand-sized sculpture.
These little creatures made of glass are on display in a gin joint in Amsterdam.
The glass menagerie below was dreamed up by Kiki Smith and the critters were made by Venetian Pino Signoretto.  It is at home at the Corning Museum of Glass in NY.  
But this devotion to smallness is not an invention of our time. We humans–all over the world– from our earliest days have dedicated time and talent to making small versions of ourselves.
Each just a few inches tall (the wall behind them is made of standard sized bricks), these ancient little men are captivating to modern eyes.  Conceived long before the electric light or glass shelving, they are now at home in a Danish museum.  Meanwhile, in Canada, visitors to the Montreal Museum of Fine Arts can have their mood swiftly elevated by the little man below.
Small scale also works wonderfully for two dimensional art.  In 16th century England, the Kings, Princes, and their pals, who could afford just about anything, any size, found they had a deep attraction to the smallest of paintings–miniature portraits.
That's the eighth king named Henry, no Tiny Tim he, and a woman fittingly named Jane Small.  North Americans in the 18th century took to the same notion, not just Kings and their social circle this time, but plain proud people wanting a keepsake. This is Lottie Hills aged 15 painted by Rufus Porter, "inventor".
Stamps!  Engravers, mostly anonymously, spend their working lives and eyes to give us this to put on our envelopes for delivery near and far.  From the 20th century, however, the artists were more frequently acknowledged.
These three above were all issued in 1978 by Monaco to celebrate Conte de Perrault who collected and published versions of these famous 'children's stories.  Artists top to bottom are Eugène Lacaque. Jacky Larrivière. and Claude Jumelet depicting tiny boy Tom Thumb.  Stunning images found here.
Wow, this love song to small is getting more than a little long.  Out of respect for the theme, we'll stop here for now and pick it again after a small break.
Look, up in the sky…
Look, there's people.  Up in the sky.  Walking around and round inside a coloured ring
Don't worry, it is only–ONLY!–a work of art from Olafur Eliasson, this time in Denmark where where was born, this time in the city of Aarhus.  It is called Your Rainbow Panorama.
This is the same artist who put a waterfall under the Brooklyn Bridge
And managed to get another one to fall out of the sky at Versaiiles
So maybe creating a rainbow you can walk inside on top of an art museum wasn't such a stretch for him.  But he seems all alone (to us, anyway) in his capacity to astonish so many people from all over the place, time after time, with 'public works'–open, visible, engaging to anyone.  Water, light, colour, always unexpected, always accepted.
Will we ever see another like him?  Is that even worth thinking about?
Above Moments from a Timeless Garden, water fountains, made to freeze in mid splash.
Truth is, maybe, some things only come along once.  So get used to it and make sure you don't miss any part of it.  Wherever you go next, Mr O, we'll be watching.
With thanks.