You are currently browsing the category archive for the 'books' category.
Above is an astonishing image, no matter what.  The immediate appeal seems mostly from the shards of strong colour, each piece a bit different from any other, yet they can be grouped in families by hue and shape …  they are close to one another but still separate.  Is this something coming together or falling apart?  Whatever is going on, It somehow generates energy, vibration, vitality,  And more.
Before long, we were thinking about all kinds of things — pixels and mosaic and pointillism, about some artists we like, and well, lots of things, one after the other.  As you will see soon enough.  But before we leave the inspiration above, we must tell you what it is. You may not believe this.
The truth behind the opening image, if truth is the right word here, is this: the top half is a close-up of a portion of a painting executed in 1889 by Georges Seurat.  The lower half is an image photographed through a microscope of the skin of an octopus.  The story of how it came to be can be found here,  Other images are from here, here, and here
For us, this was an invitation, a provocation, a dare to explore the work of artists who compose images, objects, or spaces from spots, or blobs, or dots.  Next thing we knew we were spending a heart-thumping afternoon with the work of Yayoi Kusama.
This room of what seems like leopard skin spots is something called the Spirits of Pumpkins, found here. along with a recent message from Ms Kusama that is, as expected, all her own.
The photo above the room is the artist amid those Spirits, found here
Here she is signing a piece of her work, from a 2018 film directed by Heather Lenz, seen via the Museum of Fine Arts Houston website.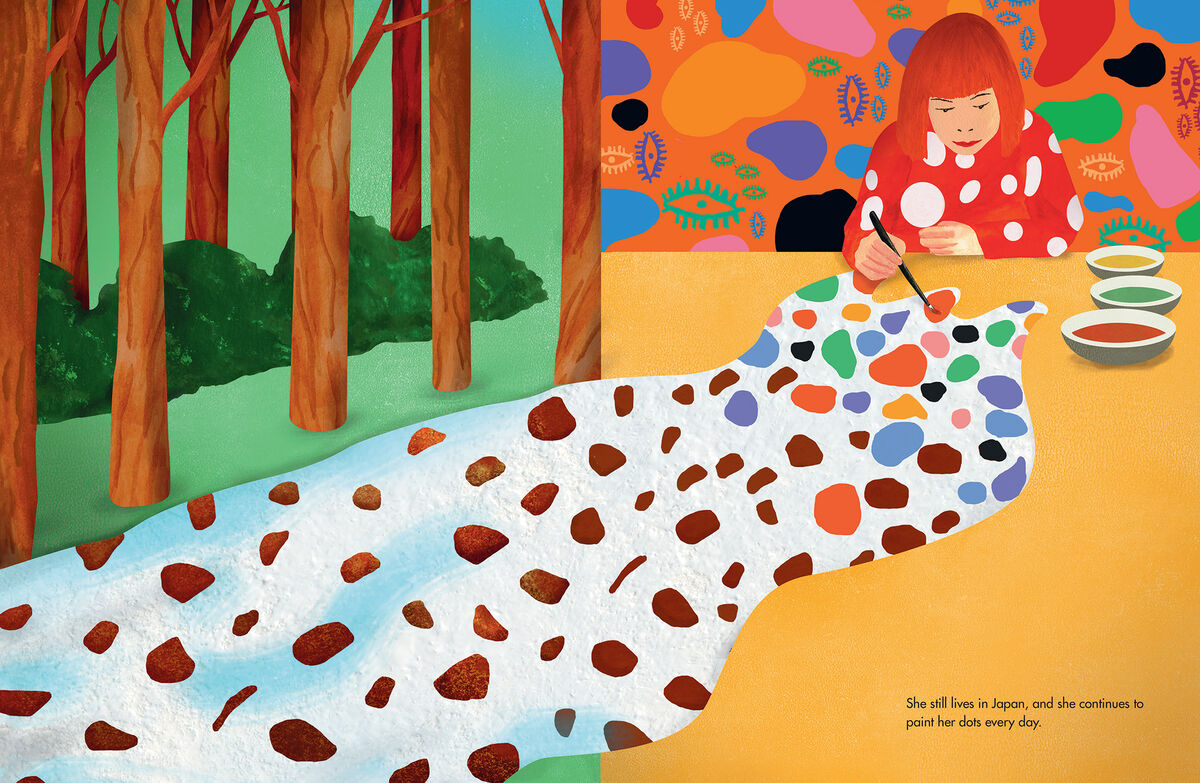 This incomparable artist from Japan, is still going strong at 91.  Those who like to talk about her art often call the exuberant explosion of small shapes in her work "polka dots".  We don't know how Ms Kusama feels about that, but to us, Polka Dots are the stuff of uncomplicated fun, ephemeral simple pleasure, perkiness–Minnie Mouse's dresses, for example. Yayoi Kusama's productions are certainly fun, but nothing about them is ephemeral, and no one would every find them mousey.  Perky?  well….maybe percolating or percussive or…
Anyway, we think they represent something of what she sees in the world, how it is built of little pieces as opposed to being a continuous fabric, whether inside the screen of a $2000 phone or a river bed or a Linden tree.  It's the same message we got from the Octopus/Seurat image that started this.
Who knows. But that idea/feeling does seem to be somewhere near the heart of her emergence as an artist as presented in a beautiful MOMA book "'for children" about YK titled From Here to Infinity written by Sarah Suzuki, a curator at The Museum of Modern Art, New York, with illustrations by Ellen Weinstein. Found here and in great bookstores everywhere.
As with most great artists, we find it doesn't pay to spend too much time on the ideas behind the work when there is so much to be gained by just looking.  So, whatever is going on here,  Wow.
That OctopuSeurat image did open a few other avenues that seem worth exploring, which we will offer up soon in I See Spots Two/Too.  Here is a taste of it.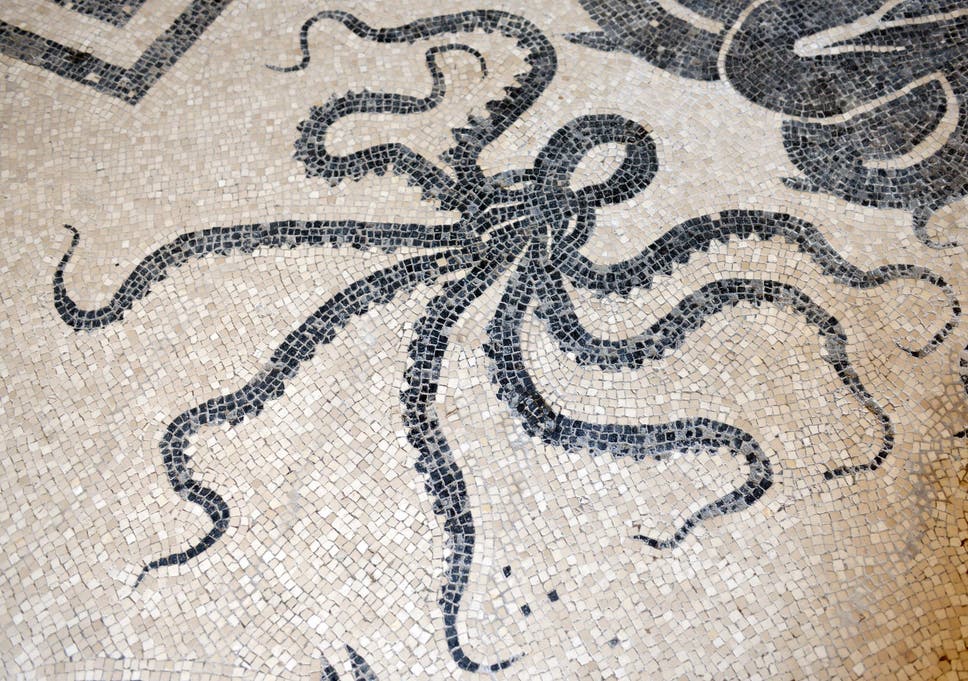 see you soon

Twenty years ago or so, we came across a neat little book that told the story of a graphic icon: the funny little man, as the author (Virginia Smith) called him.  On the cover was a truly dapper Parisian gent created by AA Cassandre for Dubonnet, the aperitif made with fortified wine, herbs, and quinine.

As we recall it, the book (check it out here) tells the tale of how companies, mainly companies selling alcoholic beverages, mainly in Europe, mainly in the 1920's and '30's, often gave the job of promoting their product to a little guy.
You can find some lovely drawings by AAC here presenting the little guy doing all kinds of stuff.
It seems that Chaplin's Little Tramp had pretty much started the whole thing rolling.
The book has disappeared from our local bibliotheque (though still available, it seems, from the warrior woman), so we went looking on our own to find some colourful little guys hard at work

Ads for the Italian herbal aperitif Campari have used a weird little jester/devil of a man in a body stocking wrapped in an orange peel.   Nothing about Campari is ordinary.

The artist is Leonetto Cappiello, nice site in French here.
Cointreau has favoured Pierrot as their pint-sized sales guy graphically

and ceramically

If you, man or woman, drank aperitifs in European bars in the 1920's, chances are you lit up a cigar at some point. This little German guy was the guy to call.

But if you wanted music with your beverage, at home, you'd ring up Little Mr Disquehead  shown in this Dutch design for record players, disques, and radios.

Yes, you can say this is not a little man at all, but I don't think we should exclude the hard-working fella just because he is red and has a trunk.
For now, we'll say goodbye to the funny little guy by way of a little portrait of Mr Chaplin himself, apparently by himself, sketched on a cocktail napkin.  Salute.  Santé
If you write, you know him and you owe him something.  If you don't, you surely know his face. Above photo by Dmitri Kasterine
Beckett reduced language to its bones while charging those bones with an intensity that carves deep lines in the head and heart.  Silence. Waiting.  This is how we spend most of our lives, but no one had the audacity and wisdom to try an make literature from them.  Until Beckett.
His plays are what brought his name to the world.
Two photos above by John Haynes
They gave him the Nobel Prize.  He did not refuse the honour, but declined to make a speech and did not attend the medal ceremony. Photographed by Richard Avedon.
Samuel Beckett, born in Dublin, lived and died in Paris. Photo found here.
Along with the gift of his genius for understanding us and putting it into words,  there is that unforgettable face–and head. Photo found here
His only rival, we think, as a writer of influence and a face of riveting attraction was this other famous resident of Paris:
Simone de Beauvoir, philosopher, writer, provocateur,and arguably, one of the primary creators of what we call feminism.
Her most influential book, the Second Sex, caused a sensation.  The Vatican disapproved harshly, all the more since Mlle De Beauvoir was born into a Catholic family in the French countryside.
Her series of memoirs, especially the first (Memoirs of a Dutiful Daughter) are as full of humanity as they are philosophy.
Like Beckett, her life and her writing changed things for us and the influence continues.
Photos (from the top) found here, here, here, here, and here.
When we see these photographs now, we can't help but recognize the unique, intense intelligence in these faces.  It's there around the eyes and the mouth.  How could these heads not produce world-changing thoughts?
magnifique
Sometimes you spend time looking at children's books because there is a child in your life that you want to please, and sometimes you just want to please yourself.   Above is from an edition of the Wizard of Oz illustrated by Lizbeth Zwerther seen here.
Happily, books are alive and well in stores for kids, and  if  you go looking,  you will find in these little books the work of some of the most gifted and imaginative artists/illustrators/cartoonists from around the world. Above is from a recent book called ICE written and illustrated by Arthur Geisert who is very fond of little pigs, as are we. Read more here.
Above three books are just a sliver of Mr Geisert's shelf of wonderful work, which has plenty of pig tales, but plenty of pigless wonders  too.  See more here.
Once you start down this path you will find yourself with a lot more than you bargained for.  If you could only have one, how would you choose between a pig tale by Arthur G or a rabbit tale by Komako  Sakai?
Ms Sakai is certainly something special.  Her simple stories and beautiful way with line and colour will fill your eyes and pinch your heart.  She has worked in the textile industry in Japan, they say. More about her books here.
Bears of course have a solid place in children's stories too.   Thanks to Jon Klassen, there's a new bear on the block and he wants something.
Nice review of Mr Klassen's book in the NYT here
Along with creatures of the farm and the woods, book artists have found plenty of inspiration among the critters that become part of the household.
Like the wonderful Max brought to life by the wonderful Maira Kalman.  Go here
People who love picture books love them as much as other people love chocolate or ABBA–i.e. totally.  There are many wonderful websites with tons of these books to show you, including Children's Illustration, which you'll find and feast on here.
To send you off, we selected Paul Thurlby an artist from England who, among lots of other things, has made an amazing alphabet, which you'll find on his site here.  Books and pictures, sentences and pictures, letters and pictures, they all go together like summer and running through the sprinkler.
of
Libraries have been around a long time and are quite simple in concept: books are stored there, people can come and look at them, and some books may be borrowed, for a while.
Biblioteca di Belle Art Milano.
Bliblioteca do Palacio Nacional da ajuda Lisboa
Peabody Library Baltimore
Yale Beinecke Rare Book and Manuscript Library. All of the above from Curious Expeditions. Many of the photos by Candida Hofer.
The simple idea resulted in some grand buildings, palaces to books and mansions for reading. That's when books were as precious as jewels. That's no longer the case, but we still build grand buildings for books.
Above is the new library in Alexandria Egypt by Norwegian Architects Snohetta. But if a city today, even a large one, wants a library, it generally ends up being a kind of community centre that happens to have books, rather than a haven for readers.
If you want a quiet, beautiful reading experience, and you don't live near one of the grand libraries above, maybe you have a nice spot at home with a good chair and books nearby.
This above I found at a site called househunt, and they found it at sweethomestyle. Photo from here. But you don't need a wall of books, necessarily.
Here is a great reading place with just a good chair and a small pile of books and some natural light. From here. This space is in a small apartment complex in Tokyo by designer Hiroshi Nakamura.
Does it matter where you read? I think it does. But it doesn't have to be a grand place, just the right place. This from Andre Kertesz, his series On Reading. See more here.