Here is a Sunday on the Island of La Grande Jatte (detail) (1884) for which we have Georges Seurat (b 1859) to thank.  And we do, as do lots of people these days, but it did take a while for those living in his own time to get over their surprise at this picture.  What's with the dots?
M Seurat took some science (of optics and colour), a lot of experience as a painter, and a bold leap into new possibilities, and then let his talent do the rest.
He believed that the eyes of a viewer of this painting would receive the dots/pointes of colour and generate a new, unified, visual experience.   Something very personal, something very special.
He was right.
Someone called it pointillism. These pictures received a lot of attention in his lifetime, both from those who were genuinely impressed and from those who seemed convinced he was trying to destroy something fundamental about painting.
To us, Seurat's paintings (and most of the best visual art since then) elevate our role as viewers. We play a central part in determining its impact, its value.  It is not a cookie to be chewed and swallowed, it is a recipe and a few key ingredients made available for us to make something for ourselves.  That process gives us something we didn't have before.
All the works of George Seurat are conveniently pictured here.
Today, the mystery is not so much how this works, the mystery is how this idea came to M Seurat in the first place?  Our (very amateur, fingertip, easily distracted) 'research' has led pretty much nowhere in terms of scholarly evidence on that point. We found no statement from the man himself–if it exists, it lies beyond our reach. So let's plunge in with a suggestion as to one possible source of inspiration that just might have played a part.  Maybe.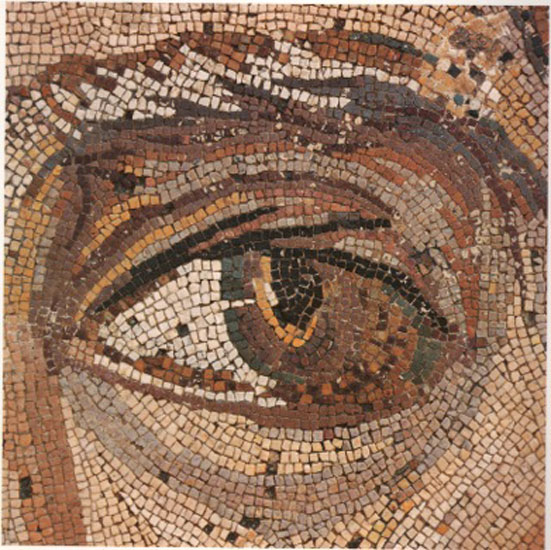 This Mosaic is from 'Ancient Greece', a 2000 year old survivor, almost intact, a portrait made entirely of small pieces of coloured stone.  The mosaic form of image making is present in the oldest cultures of Western Asia and Europe –Mesopotamia, Greek, Roman, Byzantine…M. Seurat may have encountered a relic or two, and it may have influenced his decision to paint pictures with dots of colour.  Just saying.
But even if he didn't, their existence and the undisputed reality of La Grande Jatte, so many years apart in different parts of the world, would seem to suggest: there is something fundamental in this desire among humans to making pictures out of pieces.  And for us to marvel at their effect on us.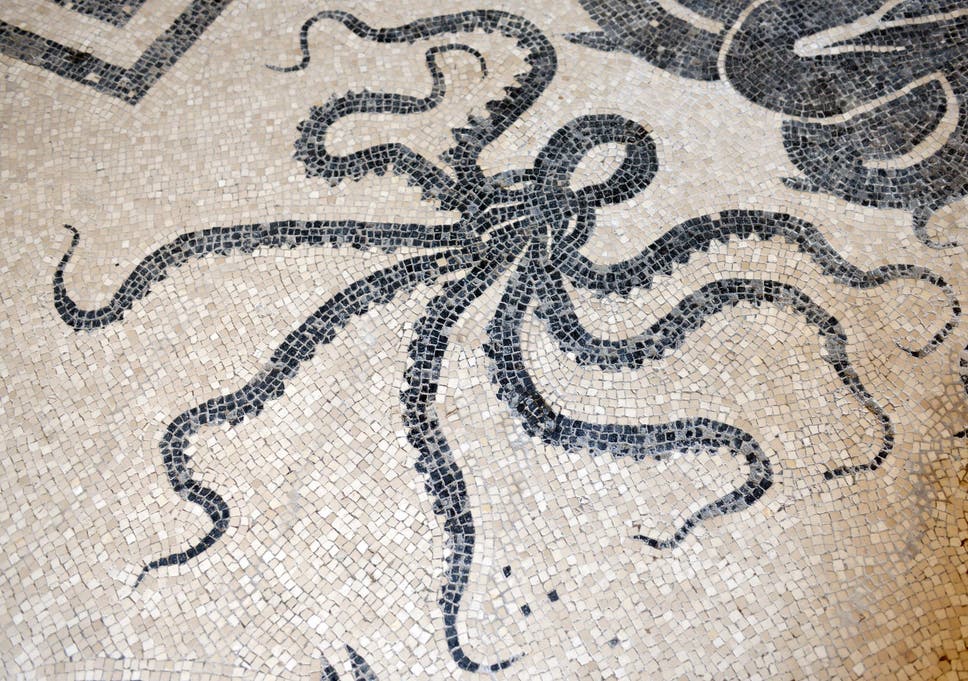 The history, longevity, variability, and sheer beauty of ancient mosaic images is truly stunning even in our age of a million digital images for many subjects (e.g. "About 136,000,000 results (0.60 seconds)" for "Images Lady Gaga", who we like too).  Both of the above from Pompeii. Destroyed/buried by ash from a volcano almost 2000 years ago, first excavated in 1600, then again and again into the 21st century… See and learn more from here and here.
Which brings us to Chuck Close, American Artist born 1940 in the State of Washington, USA
The above painting, in watercolour and pencil, is a portrait of "Keith" 1979.  Above that, a close up of some of  the squares, all of them about the same size, that make up the image.  From Reynolda House                        Credit Line Reproduction: © Chuck Close, courtesy The Pace Gallery. SEE HERE.
             Photograph by Al Mozell, courtesy Pace Gallery
Here is Mr Close's portrait of the composer Philip Glass--again 'hand painted', this time (it seems) the hand in direct contact with the paper.  As a relative of ancient mosaics, "Philip" seems to us less Greco/Roman and more Mesopotamian/Byzantine.  If you are following this homemade ragged string of thought we're weaving.
Mr Glass seems a perfect subject for Mr Close.  Both manage to produce Big Impact by means of intricately arranged small pieces.  Repeated but not identical.  Result often Hypnotic.
                              © Chuck Close
Agnes Martin, artist, painted by Chuck Close in 1998.  This MUCH more colourful phase of this singular painter's career was a surprise–not just for the colour, but because of its inventiveness and the fact that Mr Close by this time was mostly paralyzed from the waist down. The result boggles a lot of minds including ours.
So where are we now with this hop, skip ,and jump from Paris 1884 to Pompeii 79(AD) to Portraits1998….are these connected in a way that helps us understand anything better?  While we're thinking…….
Let's go back to where we started.  Paris.  On the ground.  What's going on?